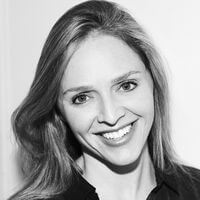 Angela Ledgerwood
Angela Ledgerwood is the creator and host of the literary podcast Lit Up, a weekly conversation with some of the world's most provocative and celebrated writers. She is the New York correspondent for Future Women, a global all-inclusive platform for forward-thinking women. She also writes Esquire's monthly online books coverage. The Lit Up Show is co-produced by PodcastOne and returned in 2019 with Trent Dalton, Caitlin Moran, Neil Gaiman, Rachel Kushner, and Parker Posey. Previous guests have included Salman Rushdie, Karl Ove Knausguaard, Hanya Yanagihara, and Ann Patchett.
Angela started her writing career interviewing artists for Interview Magazine. Previously, she was a features editor and books editor-at-large at Cosmopolitan Magazine USA where she interviewed some of her favorite people including 2020 Democratic presidential candidates Senator Elizabeth Warren and Senator Kirsten Gillibrand, and her hero Julia Louis-Dreyfus. Her nonfiction has been published in New York Magazine, Marie Claire, Esquire, The Australian, Australian Financial Review, and Condé Nast Traveler. Angela has moderated for major literary festivals in the USA, including the Brooklyn Book Festival, the Texas Book Festival, Yale Writers Conference, Bryant Park Reading Series New York,  Brooklyn Bridge Summer Reading Series, and the Sydney Writers' Festival. In 2015, she collaborated with PEN America for their live DIY Series and throughout 2015–16 Angela hosted a series of conversations at Soho House in New York with media mogul Arianna Huffington, stylist Garance Doré, Padma Lakshmi, and Jay McInerney.
Since 2016, she hosted literary events host at NeueHouse in New York. Guests included The Daily Show host, Trevor Noah, and President Obama's former deputy chief of staff, Alyssa Mastromonaco. Since 2016, Angela has consulted as a brand strategist and has worked with Thompson Hotels, Related Properties, and The R+ Agency in New York. She was born in Sydney, Australia, where she graduated from Sydney University with a Bachelor of Arts and a Bachelor of Commerce. She spent her final year of undergrad at Cornell University in New York and later completed an MFA in Fiction Writing from Pacific University in Oregon. She is a proud founding member of The Wing in New York. She has lived in Los Angeles, the Bahamas, and now lives between Sydney, Australia, and New York.