House of Speakeasy's live literary cabaret
About Seriously Entertaining
House of SpeakEasy's flagship program, "Seriously Entertaining," is a literary cabaret where authors take the stage to riff and ruminate, dinner-theater-style, on the evening's theme. Since our debut in 2014, House of SpeakEasy has been proud to feature a range of diverse authors and performers, from Pulitzer Prize–winning journalists to acclaimed novelists and poets, as well as comedians, musicians and emerging writers. Sign up to receive updates upcoming shows here.
What People are Saying About Seriously Entertaining
"A LITERARY MIXTAPE [WITH] PERFECT FLOW AND VARIETY."
– THE NEW YORK TIMES, MARCH 2016
"THE ENERGY I'M GETTING FROM EVERYONE IS EXCITEMENT THAT THIS IS BACK AND THAT WE CAN GET PHYSICAL BOOKS INTO THE COMMUNITY."
– PUBLISHERS WEEKLY, OCTOBER 2021
"[SPEAKEASY] BRINGS AUTHORS AND AUDIENCES TOGETHER IN INNOVATIVE WAYS, OFTEN THROUGH LIVE PERFORMANCES."
– THE NEW YORK TIMES STYLE MAGAZINE, APRIL 2020
"…[SPEAKEASY'S] MISSION OF SUPPORTING WRITERS AND INSPIRING THE NEXT GENERATION OF STORYTELLERS AND ARTISTS."
"YOU'VE NEVER SEEN A CABARET QUITE LIKE THIS…THE LINEUP INCLUDES SOME OF THE MOST BRILLIANT MINDS FROM THE LITERARY AND ARTISTIC WORLDS."
– CBS NEW YORK, JUNE 2014
The Latecomer
by Jean Hanff Korelitz
From the New York Times bestselling author of The Plot, Jean Hanff Korelitz's The Latecomer is a layered and immersive literary novel about three siblings, desperate to escape one another, and the upending of their family by the late arrival of a fourth.
Why Public Space Matters
by Setha Low
Drawing from decades of research, Setha Low shows how public space contributes to a flourishing society through promoting social justice and democratic practices. Thriving public spaces also enhance creativity, health, urban resilience, and environmental sustainability. Yet more than ever, public spaces across the world are threatened by urban development, privatization and neglect.
One Hundred Saturdays: Stella Levi and the Search for a Lost World
by Michael Frank
Recipient of the Jewish Book Council's Natan Notable Book Award
The remarkable story of ninety-nine-year-old Stella Levi whose conversations with the writer Michael Frank over the course of six years bring to life the vibrant world of Jewish Rhodes, the deportation to Auschwitz that extinguished ninety percent of her community, and the resilience and wisdom of the woman who lived to tell the tale.
American Estrangement: Stories
by Saïd Sayrafiezadeh
Sayrafiezadeh has been hailed by Philip Gourevitch as "a masterful storyteller working from deep in the American grain." His new collection of stories–some of which have appeared in The New Yorker, the Paris Review, and the Best American Short Stories–is set in a contemporary America full of the kind of emotionally bruised characters familiar to readers of Denis Johnson and George Saunders.
Our June 6 show at Joe's Pub was our final Seriously Entertaining of the season! War reporter and CEO of The Reckoning Project: Ukraine Testifies Janine di Giovanni ruminated on the wars and genocides she experienced that motivated her to investigate war crimes; acclaimed writer and translator Daniel Nieh recalled his time as a translator for McDonalds executives during the 2008 Olympics in Beijing; award-winning novelist and professor Ivy Pochoda recalled her journey from professional squash player living in Amsterdam to accidentally becoming a writer of mystery novels; and New York Times–bestselling science writer Eliot Schrefer shared his research on the sexual habits of wild animals and of queerness that lives in the wild.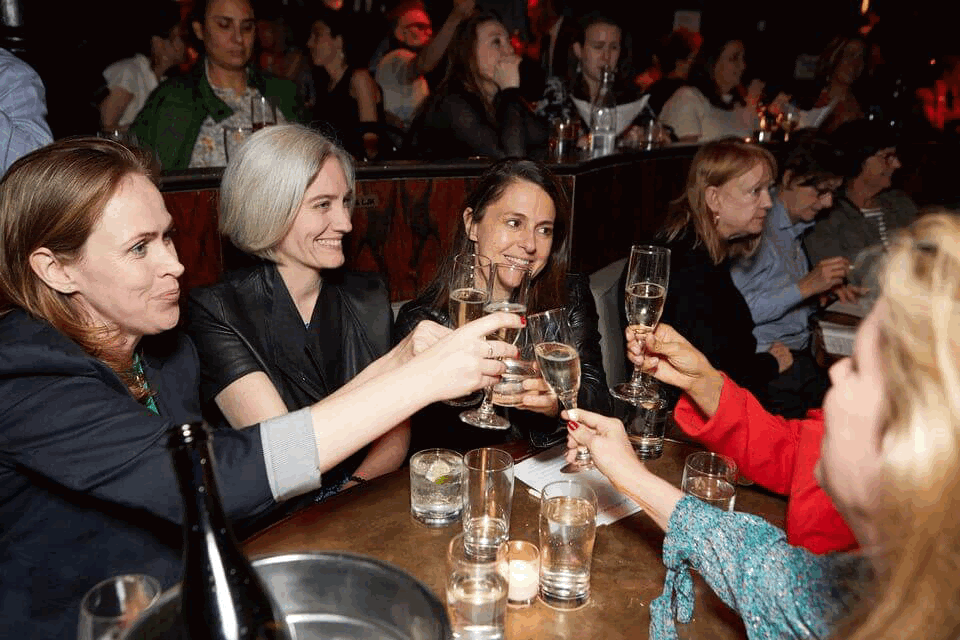 Photos From Our Past Shows At Joe's Pub
Episode #2: The Razor's Edge
Featuring three storytellers living at "The Razor's Edge": Man Booker Prize–shortlisted Madeleine Thien showing us both sides of the blade; poet and Pulitzer Prize–finalist Elizabeth Alexander giving us "The Light of the World;" and bestselling author James Rebanks sharing a love letter to his father from The Shepherd's View.