| | | |
| --- | --- | --- |
| | THE HOUSE OF SPEAKEASY IS A HOME FOR CLOSE ENCOUNTERS OF A LITERARY KIND: A PLACE WHERE AUTHORS AND THEIR AUDIENCES COME TOGETHER IN INNOVATIVE AND SUSTAINING WAYS. MORE | |
April 6 | 9:30 pm | The End My Friend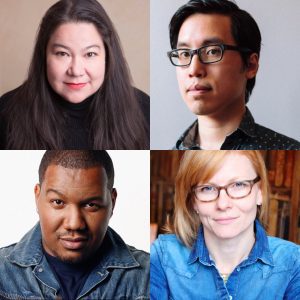 ALL 2017 SHOWS HELD AT JOE'S PUB at The Public Theater at 425 Lafayette St, NYC 10003. If a show is sold out, check our website again in a few days, as extra tickets sometimes become available closer to show date. Join our mailing list for further information.
› 4.6.17 @ 9:30PM – THE END MY FRIEND
› 5.10.17 @ 7PM – ALL TOGETHER NOW!
› 6.14.16 @ 7PM – BY THE LIGHT OF THE MOON

JOIN THE HOUSE OF SPEAKEASY FAMILY!
ENJOY DISCOUNTED TICKETS, SPECIAL INVITATIONS, AND TAKE YOUR
BOOKS TO AND FRO IN OUR DISTINCTIVE SPEAKEASY TOTE BAG.

THE SPEAKEASY BLOG
by Charles Arrowsmith
Last year Tony Tulathimutte published his first novel, Private Citizens (William Morrow, 2016), to admiring notices from New York Magazine, which called it "a Great American Novel", and Jonathan Franzen, who labeled Tulathimutte "a big talent". Last week he won the Whiting Award for Fiction. Next week he will join our Seriously Entertaining line-up at Joe's Pub for The End My Friend, alongside Ana Marie Cox, Brenda Shaughnessy, and Travon Free (tickets). We're excited. Come.
What's the big deal? Private Citizens is, as Franzen suggests, "a real book". Tulathimutte, like Franzen, is haunted by difficulty. The difficulty of behaving ethically in a worldSee More >