ON STAGE: With our shows at Joe's Pub temporarily suspended, you can still experience our signature storytelling via livestream, podcast, and YouTube channel. Sign up for our mailing list to receive updates about upcoming shows.
IN SCHOOLS: Our SpeakTogether initiative replicates our popular cabaret model for high school students. If you are an educator or know someone who works with teens, please invite them join our Teacher Network here.
ON THE ROAD: The SpeakEasy Bookmobile
On August 27, The SpeakEasy Bookmobile emerged from quarantine for a safe and social distanced back-to-school in Harlem. The "build-your-own-bookbag" program for residents of Taft Houses Resident Association served over 270 children and families by providing free backpacks, school supplies, and over 850 donated books. A special collaboration with Made for Me Books and New York City Housing Authority, with support from NYC Council Members Diana Ayala and Bill Perkins and others. Watch a short video about the impact our Bookmobile is having.
Seriously Entertaining, October 20, 7pm ET: "Nerves of Steel" —
Register Here
The October edition of our popular literary cabaret show "Seriously Entertaining" features essayist and musician Melissa Faliveno; writer, poet, and naturalist Helen Macdonald; award-winning YA writer Lilliam Rivera; and playwright and essayist Roger Rosenblatt telling stories tied to the theme "Nerves of Steel."
Register now for an evening of entertainment by making a tax-deductible donation of your choice in support of SpeakEasy's mission. Or, if you prefer to purchase one or more copies of the authors' books in advance of the show, please provide proof of purchase and receive free access by emailing [email protected].
The SpeakEasy Podcast: "Can You Hear Me Now?"
Featuring: Jason Reynolds, Kashana Cauley & James Forman, Jr.

As our country reckons with its history of systemic racism and calls for police reform, House of SpeakEasy seeks to examine injustice, intolerance, and inequity by amplifying the voices of Black writers who have performed on stage for Seriously Entertaining: National Ambassador of Young People's Literature Jason Reynolds from "All Together Now," May 2017; humor writer and New York Times contributing opinion writer Kashana Cauley from "No Man's Land," May 2018; and author, legal scholar and Yale Law School Professor James Forman, Jr. from "Caught in the Act," December 2017.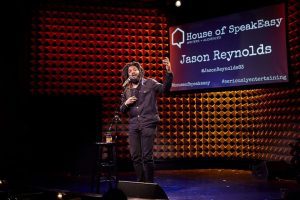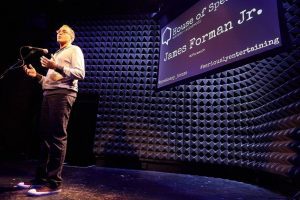 SpeakTogether Student Matinee: "All the World's a Stage"
This week, we're featuring a story by actor and playwright Aimé Donna Kelly who performed for over 100 students at Talent Unlimited High School, her alma mater. In this talk, Aimé shares how, as a young drama student experiencing being typecast in roles written only for women of color, she spoke out against the inequity to ensure students of color had access to a truly diverse range of roles.
"We can go out there and perform Shakespeare, we can go out there and play parts that aren't normally cast as people that look like us."
Part of SpeakEasy's SpeakTogether student matinee program, "All the World's a Stage," which took place on February 1, 2019, at Talent Unlimited High School in New York City.
"All the World's a Stage" with Aimé Donna Kelly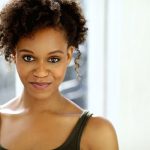 Aimé Donna Kelly
is a playwright and actress known for her work on stage and on television in the Netflix show
Iron Fist
and the Golden Globe Award–winning
The Marvelous Mrs. Maisel
. She is the winner of The Adele Magner Memorial Award, awarded by Philadelphia Young Playwrights, where she was a resident teaching artist. Kelly was also a finalist for F. Otto Haas Award for an Emerging Philadelphia Theatre Artist at the 2014 Barrymore Awards.
The SpeakEasy Bookmobile: On the Road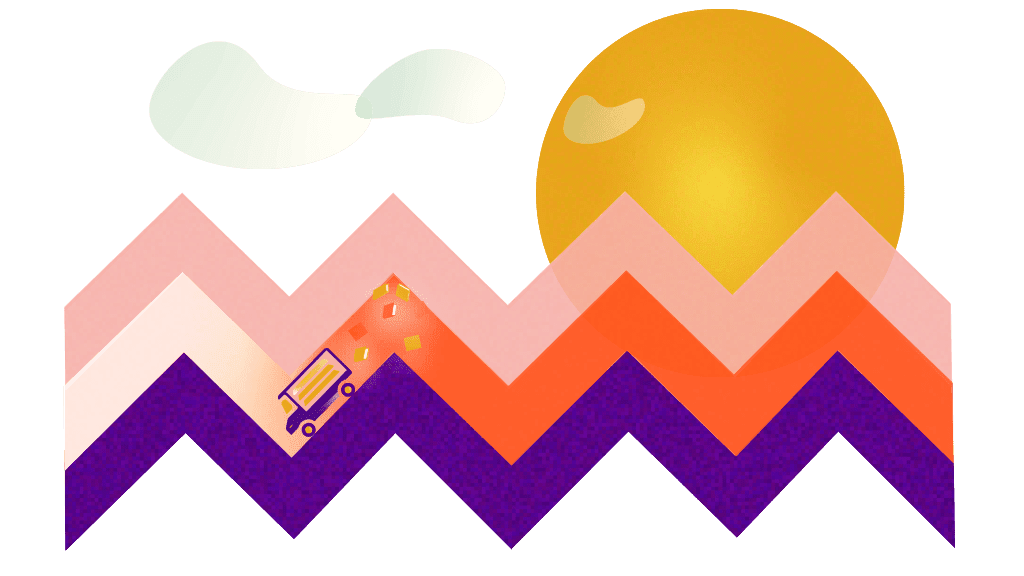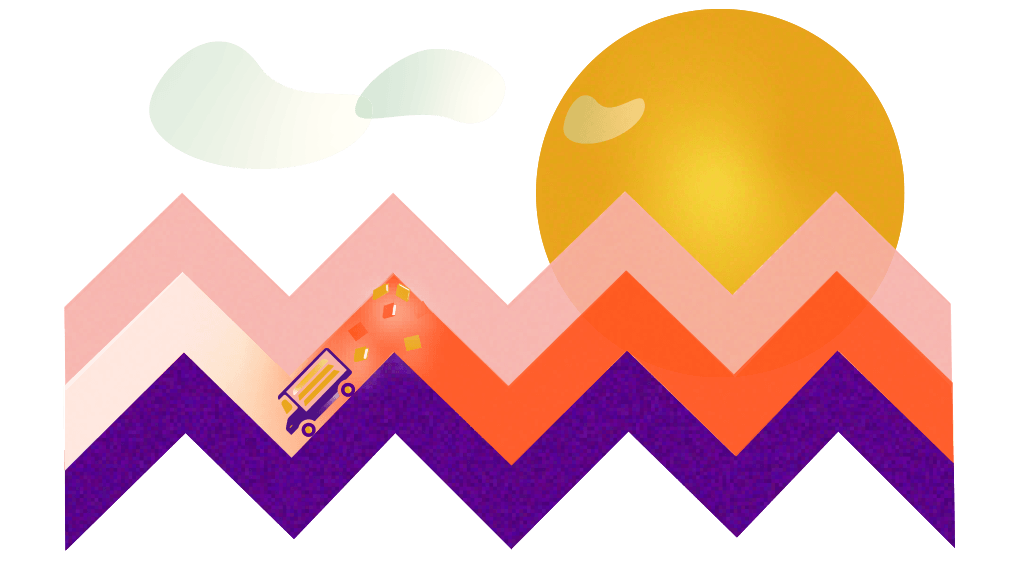 Last summer, The SpeakEasy Bookmobile embarked on a 4,000-mile cross-country odyssey to better serve "book deserts." Throughout the tour, SpeakEasy offered writing workshops, poetry readings, and other educational programs while distributing books to students, families, and communities in need across 14 states. See the full itinerary here and stayed tuned for details about our next trip.
Over a two-week period, we visited 18 cities and towns, including Floyd County, Kentucky, Salisbury, Maryland, and Arnaudville, Louisiana. We distributed over 5,000 books to schools, youth centers, and communities in need, including the International Rescue Committee and the Boys and Girls Club in Jackson, Mississippi. Check out highlights from the trip in the slideshow above.

SpeakTogether: SpeakEasy's College Readiness Program
On stage. In Schools. On the Road. From our Seriously Entertaining shows at Joe's Pub to our in-school matinees throughout New York City to our bookmobile visits to book deserts across the country, we've been busy! Catch up on all our programs in this short video.
Watch a short video about the impact our work is having. Working with teens and educators in College Readiness programs, our goal is simple: to expand access to books and their authors, and to share the transformative power of storytelling with the next generation of writers and readers.
The SpeakEasy Storefront on Bookshop.org


House is SpeakEasy is proud to participate in the #BlackoutBestsellerList & #BlackPublishingPower campaigns by highlighting books by Black writers, poets, and illustrators, many of whom have participated in our programs. According to HarperCollins' editorial director of Amistad, Tracy Sherrod, who initiated the campaign, the goal is to "turn the bestseller lists Black, to take the list over with books by Black writers or by other people of color." Read more about it here.
Visit our storefront on Bookshop.org to view the list of titles by past and upcoming SpeakEasy performers.

In the last year, The SpeakEasy Bookmobile has participated in book pop-ups across New York City. In partnership with NYC's Greenmarkets and the Department of Transportation, our monthly visits to Fordham Plaza in the Bronx and to Corona Plaza in Queens have allowed us to put hundreds of books into the hands of readers. In addition, we distributed more than 5,000 books to communities across fourteen states during our 4,000-mile "Poetry to the People" road trip.
Check out some of the most popular titles on Bookshop.org and purchase your own copies to help support our work in the streets!
Seriously Entertaining: Past Shows
Seriously Entertaining, September edition:
"All Good Things"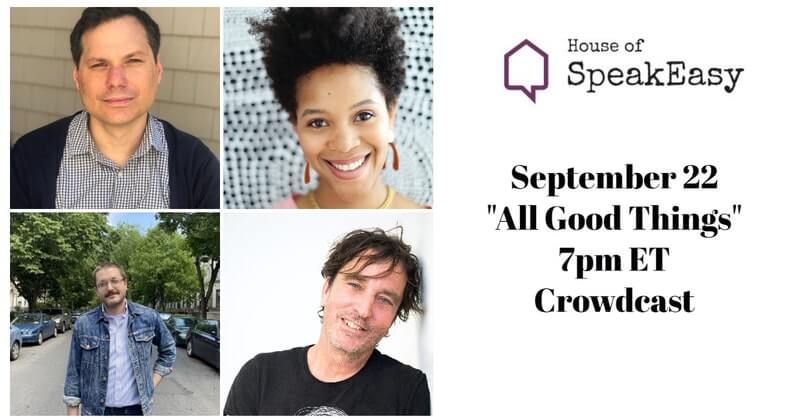 On September 22, our virtual fall season kicked off with a show featuring comedian and writer Michael Ian Black, memoirist and poet Nick Flynn, "Ask the Philosopher" Ian Olasov, and award-winning YA novelist Liara Tamani. They each told stories tied to the theme "All Good Things."
Watch it here.
Seriously Entertaining, August edition:
"Those Were the Days"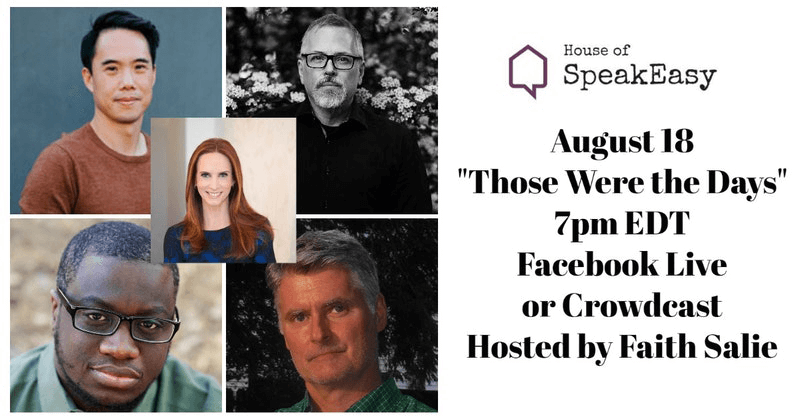 On August 18, "Seriously Entertaining" hosted by Emmy Award–winning contributor to "CBS News Sunday Morning" and a regular on NPR's "Wait Wait…Don't Tell Me!" Faith Salie, this evening's program will feature novelist and television writer (Westworld, Legion) Charles Yu, New York Times–bestselling writer and "weird Thoreau" Jeff VanderMeer, recipient of the 2016 PEN/Robert W. Bingham Prize for Debut Fiction and short story writer Rion Amilcar Scott, and American history professor and critic Kevin Mattson. They will each explore the evening's theme, "Those Were The Days." Watch it here.
From the Archives: Kurt Andersen
This week, we're revisiting a performance from 2016 by Kurt Andersen, writer, journalist, and host/co-creator of the Peabody Award–winning radio show Studio 360. In this Seriously Entertaining story on the theme "I'll Have Another," Kurt opens up about his childhood career aspirations and wonders who he might have been.
THE SPEAKEASY BLOG
by House of SpeakEasy
Ian Olasov is an adjunct professor and doctoral candidate at the City University of New York Graduate Center. His writing has appeared in Slate, Vox, Public Seminar, and elsewhere. He won the American Philosophical Association's Public Philosophy Op-Ed Prize in 2016 and 2018. He runs the Ask a Philosopher booth in locations around New York City. His book Ask a Philosopher: Answers to Your Most Important (and Most Unexpected) Questions is out thisSee More >
VIEWS PHOTOS FROM OUR RECENT SHOWS AT JOE'S PUB
Become a member of House of SpeakEasy and enjoy perks like early notice of our programming, priority booking privileges, ticket discounts, a SpeakEasy tote bag, and the satisfaction that your support helps fund our Seriously Involved programs in underserved communities, connecting writers and students hoping to go onto college. Join today.