ON STAGE: Join us for our monthly Seriously Entertaining cabaret shows live at Joe's Pub at The Public Theater in downtown NYC. Watch past performances on YouTube and sign up for updates about future shows here.
IN SCHOOLS: From in-school matinees and storytelling workshops to after-school college readiness programs, we connect published authors with students in under-resourced high schools. If you are an educator or know someone who works with teens, join our Teacher Network here.
ON THE STREETS: The SpeakEasy Bookmobile delivers brand new books to "book deserts," neighborhoods without bookstores and limited access to libraries, in New York City and beyond—for free! If you'd like to partner with us, please get in touch.
Seriously Entertaining will return for a new season in January 2024!
Our last Seriously Entertaining of the fall season was a partner event with W. W. Norton & Company to celebrate Norton's 100th anniversary and the launch of Norton Shorts, a new series of short books by leading scholars. The evening featured four writers with upcoming books in the series who spoke on the theme "In Being Bold." Speakers included the first two authors in the series, National Book Award winner and author of Wild Girls Tiya Miles and Virginia Tech professor with a focus on disability studies and technology ethics and author of Against Technoableism Ashley Shew. They were joined by authors of forthcoming Norton Shorts, professor of African American studies at Princeton University and the author of Imagination: A Manifesto Ruha Benjamin and former Microsoft engineer and author of Literary Theory for Robots Dennis Yi Tenen. Watch the replay here!
Check back here often for show lineups and updates about upcoming events. And don't forget to subscribe to our YouTube Channel to watch past performances!
ON THE STREETS: The SpeakEasy Bookmobile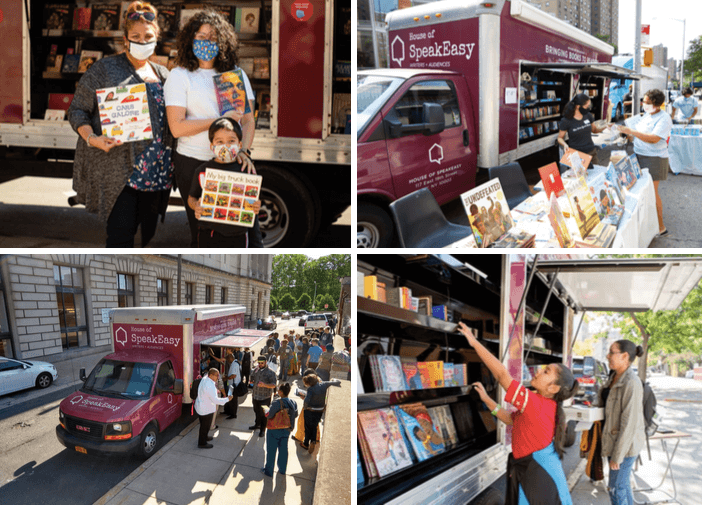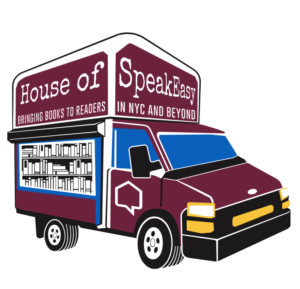 The SpeakEasy Bookmobile hits the streets of New York City this fall! Working with the National Book Foundation's Book Rich Environments initiative and the New York City Housing Authority, we are helping families build their own at-home libraries by providing free books to residents living in The Bronx, Queens, East Harlem, and Brooklyn. Catch us at an upcoming event soon and select a free book of your choice, or grab one for a book lover in your family.
To find out about upcoming Bookmobile activations, go here. And to view highlights from recent bookmobile deployments, go here.
Watch a short video about our Bookmobile Operations Manager, Jacqueline Graham, as she navigates the city delivering free books!
House of SpeakEasy Celebrates 10 Years
Take a look back at House of SpeakEasy's origin story in this short video produced on the occasion of the organization's 10th Anniversary Gala on April 13, 2023 in New York City.
Ten years
Hundreds of authors
Thousands of students & teachers
25,000+ new books delivered for free
Thank you to all our donors and sponsors who helped us get to this milestone.
Impact: SpeakTogether in the Schools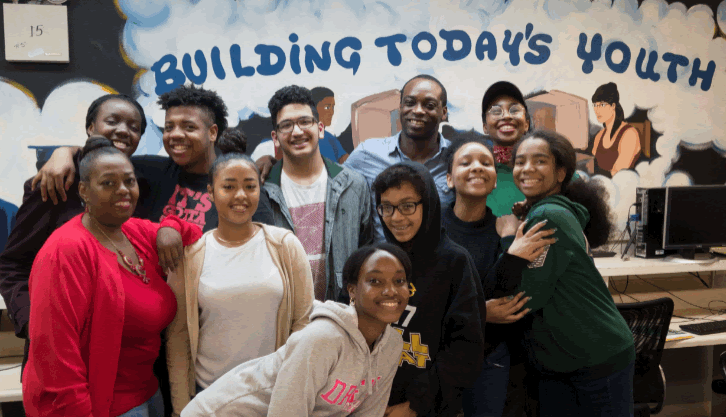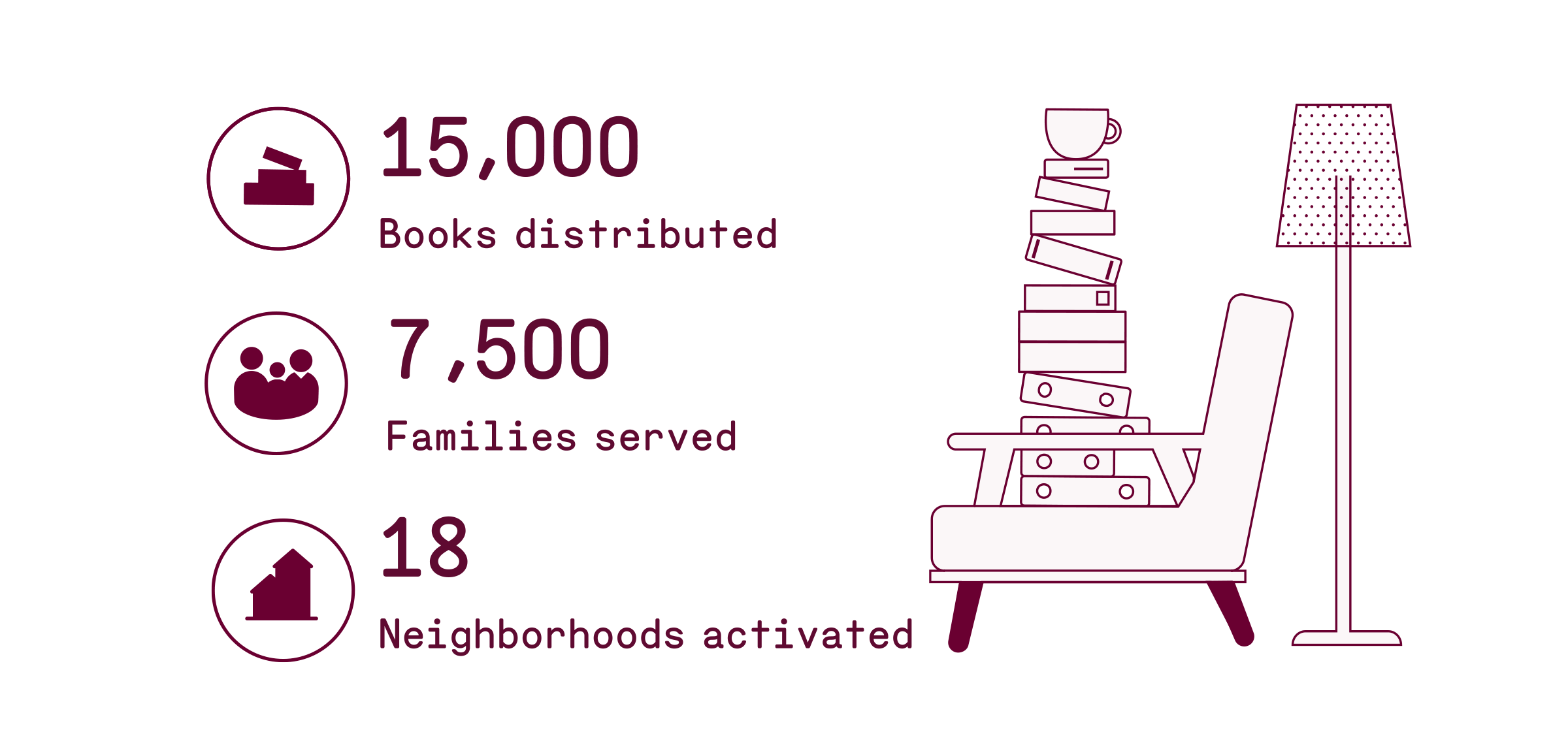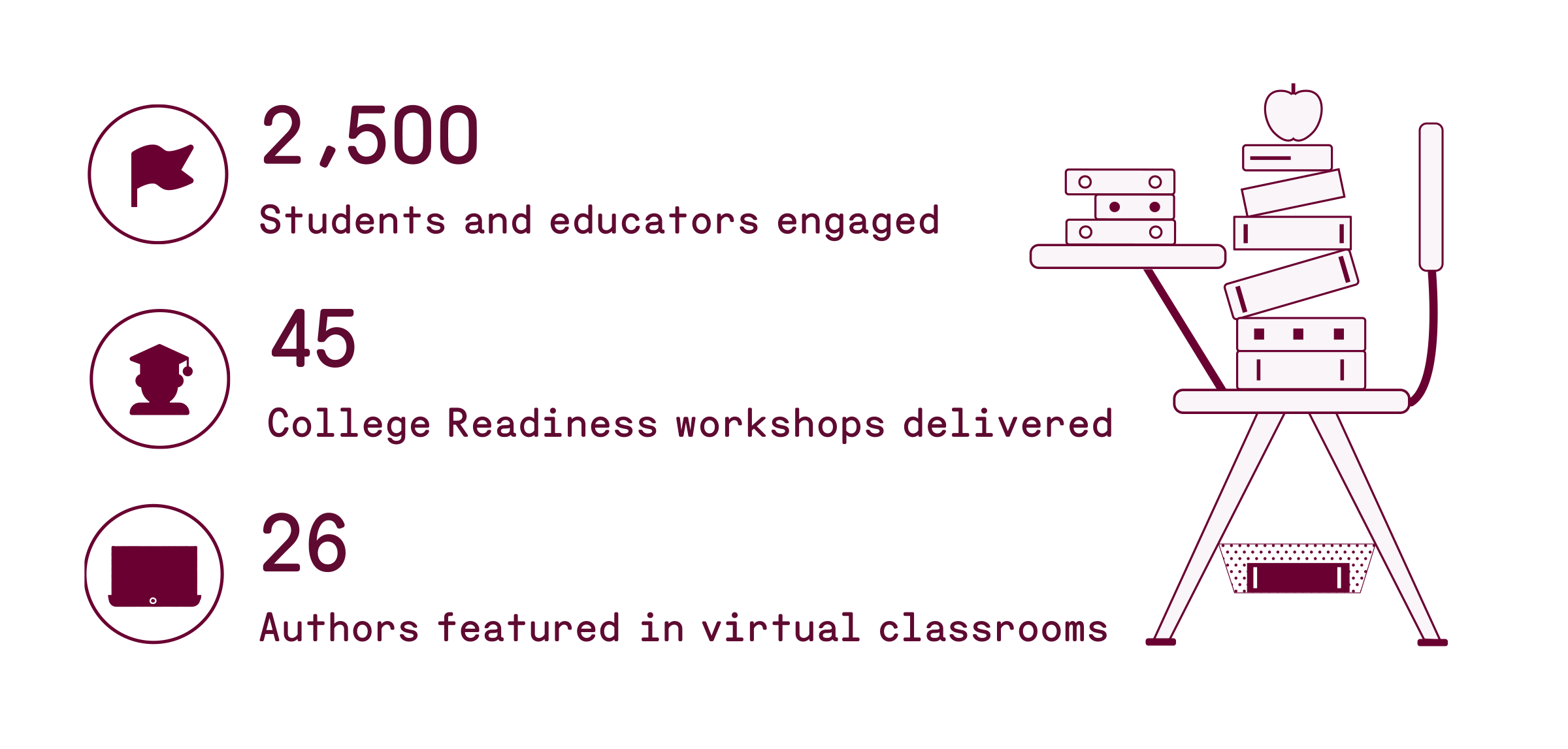 Help us continue to deliver our programs to those who need them most. 100% of our donations go directly toward serving our mission of connecting authors and audiences, students, and communities.
Episode #2: The Razor's Edge
Featuring three storytellers living at "The Razor's Edge": Man Booker Prize–shortlisted Madeleine Thien showing us both sides of the blade; poet and Pulitzer Prize–finalist Elizabeth Alexander giving us "The Light of the World;" and bestselling author James Rebanks sharing a love letter to his father from The Shepherd's View.
Inspired by our Seriously Entertaining cabaret shows at Joe's Pub, our Student Matinees use the same storytelling model to bring dynamic speakers into public schools across New York City, helping teens imagine how to be the authors of their own stories. Since 2017, SpeakEasy has featured acclaimed writers speaking on a range of themes relevant to students' experience. Watch a short video about our recent event at Fordham High School for the Arts in The Bronx.
Author-to-Author Talk Backs
On May 31, 2023, novelist Angie Cruz and memoirist Mira Jacob presented short talks and interviewed each other about the writing process, fielding questions from high school sophomores at Bronx High School for Law & Community Service. Part House of SpeakEasy's SpeakTogether in the Schools program. Hear what this opportunity meant to the authors who participated in our program.
Student Storytelling Workshops
From page to stage, students who participate in SpeakEasy's Storytelling Workshops work closely with published authors and performers to learn about craft and voice, shaping their very own personal stories in the process.
Student Storytelling Workshops
Over the course of several months, writers develop a bond with the students and witness them transform from tentative writers to powerful performers, culminating in a final performance in front of peers and teachers.
Connecting Writers with Students
Watch a short video featuring authors and students sharing what it means to connect with each other at Edward R. Murrow High School.
Engaging with Young People
Watch a short video about what this opportunity meant to authors who participated at Fordham High School for the Arts in The Bronx.
SpeakTogether in the Schools
"Kids need to know how much you care before they care about how much you know." Middle grade teacher and longtime friend of SpeakEasy Torrey Maldonado is the author of the YA novels Tight and What Lane? Torrey performed on stage at Joe's Pub in the fall of 2019 and at outdoor readings with the Bookmobile in Bed-Stuy, Brooklyn. In 2019-2020, he led multiple after-school workshops for teens at Union Settlement's College Readiness program in East Harlem, part of House of SpeakEasy's "SpeakTogether in the Schools" initiative.
Watch a short video with Torrey about the magic of storytelling and why SpeakEasy's programs are unique.
Students in Their Own Words
SpeakEasy offers a range of programs, including in-person student matinees, storytelling workshops, and mentoring opportunities in NYC high schools and after-school programs. Since 2015, SpeakTogether has been connecting published authors directly with students, ensuring that their books are made freely available. Writers work closely with the next generation of storytellers to provide unique insights into what it means to be a writer and help students hone the critical thinking skills necessary for the pursuit of higher education.
Watch a short video to hear about the impact our programs are having directly from teens.
Student Matinee in Brooklyn
"Just getting the opportunity to be with successful people and hearing really intimate things about them was very inspiring—and being able to ask questions on a personal level and in smaller groups was incredible." Students from longtime partner Edward R. Murrow High School were joined by novelists, memoirists, and poets, including Ellen Hagan, Jerad Alexander, and Samira Asma-Sadeque, for a special storytelling performance.
Watch a short video with the authors and students who participated.
Student Matinee in The Bronx
"I never had this opportunity as a kid—I never had writers coming to my school. And I think that would have really been a game changer for me." Last fall in The Bronx, award-winning authors, poets, and educators such as Alex Segura, Nana Kwame Adjei-Brenyah, and Charlie Vázquez performed at a matinee for students at one of our new partner schools: Fordham High School for the Arts.
Watch a short video to hear what it meant for the authors who performed.
Our "SpeakTogether" program empowers high school students by connecting them directly with authors to help find their voices and share their stories. We complement existing curricula with creative arts toolkits inspired by our in-person student matinees and storytelling workshops.
"The stories the authors share with students are full of heart, imagination, and transformative action. Those ideas get translated into the toolkits and become a topic of classroom conversation." — NK Iguh, Manager of Education & Equity
Join our Teacher Network to learn more and access our educational enrichment materials, including audio & video recordings, writing prompts & activities, and recommendations for further reading.
Thank you to our partners, supporters & donors
Watch a short video from early 2022 about our impact during the pandemic with SpeakEasy's co-founders, Amanda Foreman & Lucas Wittmann. Now in our 10th year, we are grateful for the support of our donors and partners. With your help, we've been able to make an even deeper impact in the communities we serve.
We count on your support. Please help by making a tax-deductible donation today.
Join today to receive perks like discounted tickets to Seriously Entertaining shows at Joe's Pub, special invitations to V.I.P. events, access to premium content, signed books, free totes, and more. Your membership dues make it possible for us to connect authors with students in under-resourced schools and ensure that they receive free copies of authors' books via the SpeakEasy Bookmobile.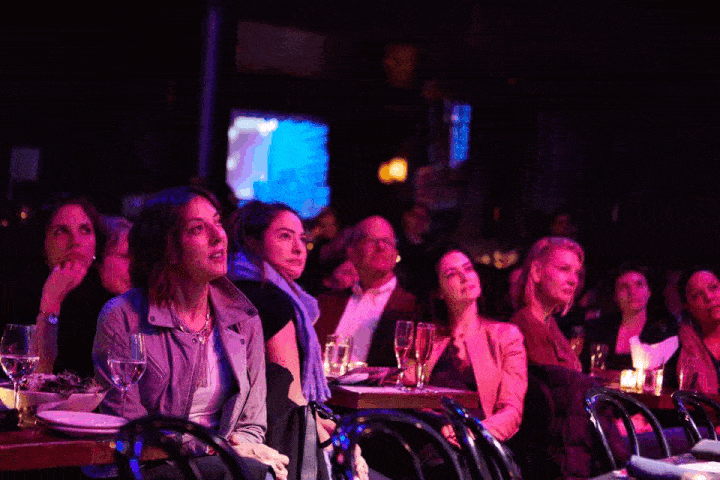 SERIOUSLY ENTERTAINING: Through the Years
We invite you to watch highlights from past editions of our flagship program, which The New York Times calls "a literary mixtape [with] perfect flow and variety." Our monthly cabaret series features authors taking the stage and screen to riff and ruminate informally, dinner-theater-style, on the evening's theme.
Watch Seriously Entertaining programs on our YouTube channel, via livestream, and through our podcast. Sign up for updates about upcoming shows here.
The SpeakEasy Storefront on Bookshop.org

House of SpeakEasy is proud to participate in the #BlackoutBestsellerList & #BlackPublishingPower campaigns by highlighting books by Black writers, poets, and illustrators, many of whom have participated in our programs. Read more about the campaign here.
Visit our storefront on Bookshop.org to view the list of titles by past and upcoming SpeakEasy performers.

The SpeakEasy Bookmobile has delivered over 15,000 free book bags and school supplies to communities across New York City in partnership with NYC Department of Housing and the Department of Transportation. Our regular visits to Fordham Plaza in The Bronx, Corona Plaza in Queens, and Myrtle-Wyckoff in Brooklyn and beyond have allowed us to help families build their own home libraries.
Check out some of the most popular titles on Bookshop.org and purchase your own copies to help support our work in the streets!