Peer-reviewed. Classroom-tested. Free.
House of SpeakEasy's innovative, hands-on, interdisciplinary creative arts toolkits bring a diverse range of brilliant literary voices into your classroom.
Take a guided tour below of SpeakTogether's creative arts toolkits with their creator, NK Iguh, SpeakEasy's Manager of Education & Equity.
"The stories the authors share with students are full of heart, imagination, and transformative action. Those ideas get translated into the toolkits and become a topic of classroom conversation."
—NK Iguh
House of SpeakEasy's Manager of Education & Equity
Our "SpeakTogether in the Schools" program empowers high school students by connecting them directly with authors to help discover their voices and share their stories. We complement existing curricula with creative arts toolkits inspired by our in-person student matinees and storytelling workshops.
Watch a short webinar about how to adopt these materials for your classroom. Join our Teacher Network to gain access audio & video recordings, writing prompts & art-making activities, and recommendations for further reading.
We are grateful to the National Endowment for the Arts for recognizing the value of these creative arts curricula with an award in 2022 and 2023. Click here for the press release.
Inspired by our live matinees in New York City high schools featuring acclaimed authors on stage, our SpeakTogether creative arts toolkits are ready-to-use lesson plans for teachers and facilitators.
These toolkits are fun, imaginative, and help educators introduce students to a variety of genres and disciplines, including fiction, poetry, journalism, storytelling, and visual arts.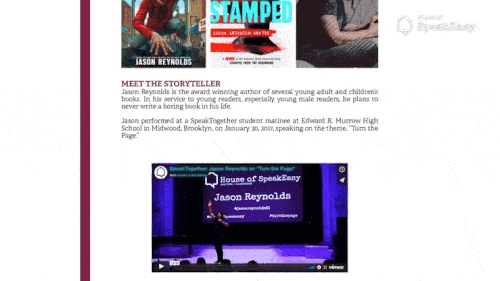 At House of SpeakEasy, we believe that every teacher should have access to quality literary arts materials. We feel it is important to support educators by providing peer-reviewed classroom curricula for free nationwide.
If you are an educator or if you work with youth, we invite you to use these toolkits to introduce new units in your classroom, enliven your literature and arts classes, and create a culture of creativity and art-making.
A SpeakTogether toolkit is a creative arts experience that leads teachers and students through guided lessons inspired by original stories told by authors on our SpeakTogether stage. Each creative arts toolkit includes:
A multimedia video link to the author's story
A teacher's guide and welcome letter
Two art-making activities
Bonus reading materials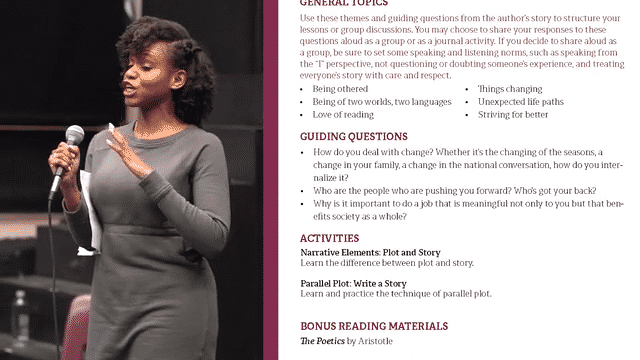 It's easy to unlock the potential of these toolkits for your students. Before you begin, we recommend that you watch the author's video, consider the theme of the story, and scan the activities and discussion topics.
Once you have reviewed, gather your materials and follow this four-step process to make these toolkits your own.
Introduce the author and the themes/topics to students
Watch the author's video together as a class
Lead students through guided discussion topics
Guide students through scaffolded activities
For further instruction on how to use a toolkit, please refer to the Toolkit Walkthrough section below.
As a literary arts 501(c)(3) nonprofit, our mission is to connect writers and audiences in innovative and sustaining ways. Through our SpeakTogether program, we aim to help students find and develop their own voice as a form of empowerment; provide teachers with quality supplementary classroom curricula; share the personal and impactful stories of an array of published authors with young readers; and champion art-making and creativity in classrooms.
#1
First, watch and listen to NK walk you through a sample toolkit. The first component consists of the video and the teachers' guide.
Note: Before you begin, we strongly encourage that you read the Letter to Educators and have the students read the Letter to Students.
Video transcript
"Each toolkit includes a video link to the author's story, a teacher's guide, two activities, and bonus reading materials. Toolkits can be used as a way to shake up the classroom routine, or it can be integrated as part of the weekly schedule. Or, it can even be used as a way to organize a club space.
"Each toolkit begins by watching a video of the author's story. The videos range from about 10 to 15 minutes in length. Then there is the teacher's guide, which contains a brief introduction of the author, "General Topics" that list the themes and concerns that arise in the story, and "Guiding Questions" that provide a list of classroom discussion topics.
"You can consider watching the video and answering these questions as a warmup. Completing them is essential for the toolkit experience."
#2
Next, NK walks you through the step-by-step instruction for how to complete the art-making activities, a core component of the toolkit experience. 
Video transcript
"Each toolkit contains two activities. Each activity includes an introduction to the concepts to be studied. They also include step-by-step instructions of how to complete the related art activity. The art activity puts into practice the strategies that were just discussed."
#3
Then, NK discusses the bonus materials, suggestions for further reading and additional explorations on the topics and themes covered.
Video transcript
"The final component of each toolkit is the bonus reading materials. They offer other works that students and teachers might want to follow up with. Whenever possible, we try to include texts if they're readily available on the web."
#4
Finally, NK offers additional tips on how to achieve the optimal experience with these toolkits.
Video transcript
"Here are some additional tips for using the toolkits. Before you use your first toolkit, we strongly encourage that you read the letter to educators and have the students read the letter addressed to them. In it, you will find information about how to approach and use the toolkits.
"Teachers are encouraged to read the entire toolkit before assigning any parts of it. Teachers are also encouraged to review the requirements and topics of each toolkit and adapt them to their own curriculum.
"Before beginning each toolkit, be sure to prep supplementary materials and to think about the students' needs, especially when engaging in conversations about personal identity.
"You can even find tool kits for your curriculum through keyword searches on our website."
Frequently Asked Questions
In this clip, NK tries to anticipate most of your questions that might come up. You can also scroll down to read her answers.
We welcome your thoughts on these toolkits and would love to hear how you've integrated them into your classrooms. Email us at [email protected] to share your insights and feedback.
Video transcript
Scroll down to click on the questions to reveal each answer.
Author Gallery: Featured Toolkits
Frequently Asked Questions
Is it possible to use this toolkit without first watching the corresponding video?
It is not recommended that you do so, because the author's story is really the inspiration for the toolkit.
I only have time to use a portion of one toolkit, but not the whole thing. Can I return to it later?
Yes, absolutely. The toolkits are highly adaptable.
What age group or grade levels are these toolkits designed for?
Generally, the toolkits are for high school students grades 9-12. When there is higher-level content for juniors and seniors, that will be noted on the toolkit.
How long will activities take?
That depends on the scope of the activity. Activities range in length from 20 minute in-class assignments to weeks-long take home projects.
How do I use the bonus reading materials?
Bonus reading materials can be used in different ways. At times, they are directly linked to the activities in the toolkit, other times they are suggested readings for curious students who would like to learn more about the themes and topics discussed. They are also used as a way to introduce students to the work of the featured author or to the work of similar writers. 
Can I use the toolkits for homework or are they best used in the classroom?
It is strongly recommended that you conduct the introductory materials in class with your students, including watching the author video, facilitating the guided discussion, and introducing the concepts of the art activity. It is also suggested that you allot some class time for the activity, then allow your students to finish it at home. 
Is there a method for us to provide feedback to House of SpeakEasy after we use the toolkits in class?
Yes, we welcome your feedback. You can send any feedback and questions to [email protected].
Have the toolkits been used in classrooms before?
Yes. NK Iguh, our Manager of Education and Equity and the developer of these toolkits, has used the toolkits in their own classrooms and summer writing workshops, and the students consistently respond favorably. We have also received lots of feedback from educators who have helped us refine our process.
What do you mean when you say the toolkits use an anti-racist framework?
An anti-racist framework simply means that students are encouraged to bring their full identities into the classroom, and that the classroom is a safe space for them to explore matters of identity.
Terms & Conditions
Please note that each author's story was specifically crafted for high school students for use in a school or classroom context. We ask that you honor this confidentiality and refrain from sharing these materials outside of your classroom.