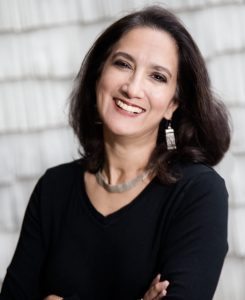 Marina Budhos
Marina performed at a SpeakTogether student matinee at Edward R. Murrow High School in Midwood, Brooklyn, on October 3, 2017, speaking on the theme, "It's Now or Never," and led a Summer Writing Workshop for SpeakTogether at Talent Unlimited High School on July 30, 2018. Marina also performed on our virtual stage for Seriously Entertaining on June 23, 2020, speaking on the evening's theme, "Other Side of Reason." Watch it below. 
Marina Budhos is an author of award-winning fiction and nonfiction. Marina is the author of the young adult novels Tell Us We're Home, which was a 2017 Essex County YA Pick, and Ask Me No Questions, recipient of the first James Cook Teen Book Award, an ALA Best Book, and Chicago Library's Best of the Best, among other awards.The sequel to Ask Me No Questions which takes on surveillance in a post 9/11 era, Watched, received an Asian/Pacific American Award for Literature YA Honor (APALA) and is an Honor Book for The Walter Award (We Need Diverse Books). In 2019 she released The Long Ride, a novel about three mixed-race girls during a 1970s integration struggle, which was listed among Kirkus Review's Best Middle Grade Historical Fiction of 2019, and  Publishers Weekly's African American Young Reader's Titles, 2019. Her most recent book, We Are All We Have, was published in 2022.
Marina also published her second co-authored book with husband Marc Aronson, Eyes of the World: Robert Capa & Gerda Taro & The Invention of Modern Photojournalism. Among the first to depict modern warfare, Capa and Taro took powerful photographs of the Spanish Civil War that went straight from the devastation to news magazines. Eyes of the World is a 2017 YALSA Finalist in Nonfiction. Their previous book, Sugar Changed the World: A Story of Magic, Spice, Slavery, Freedom & Science, was a 2010 Los Angeles Times Book Award Finalist and also a YALSA Finalist in Nonfiction. She has published the adult novels The Professor of Light and House of Waiting, and a nonfiction book, Remix: Conversations with Immigrant Teenagers. Her books have been published in several countries and her short stories, articles, essays, and book reviews have appeared in publications such as The Daily Beast, The Awl, The Huffington Post, LitHub, The Kenyon Review, Ploughshares, The Nation, Dissent, Marie Claire, Redbook, Travel & Leisure, The Los Angeles Times, and in anthologies. Marina Budhos has been a Fulbright Scholar to India, and she has received an EMMA (Exceptional Merit Media Award), a Rona Jaffe Award for Women Writers, the 2018 Maplewood Literary Award, and two Fellowships from the New Jersey Council on the Arts. A graduate of Cornell and Brown universities, she is a professor of English at William Paterson University, and frequently gives talks throughout the country and abroad. She is married to the author Marc Aronson and lives in New Jersey with their two sons, Sasha and Rafi.
Purchase this writer's book via our virtual storefront on Bookshop.org, the bookselling platform that supports independent bookstores. A portion of proceeds from all book purchases will go toward helping support SpeakEasy's nonprofit mission and our literary programs on stage, in schools, and on the road with The SpeakEasy Bookmobile.
BUY NOW