"A literary mixtape [with] perfect flow and variety."
– The New York Times, March 2016
House of SpeakEasy launched as a 501(c)(3) nonprofit organization in 2013, and our first Seriously Entertaining cabaret kicked off 2014 in style, featuring a dazzling array of writers and performers. Since then, SpeakEasy has continued to dazzle by expanding its range of programs for students, teachers, and book lovers across New York City. More recently, it's taken the show on the road with The SpeakEasy Bookmobile to become a national storytelling effort working with dozens of partners and hundreds of acclaimed writers. Below are some recent press about SpeakEasy's successes.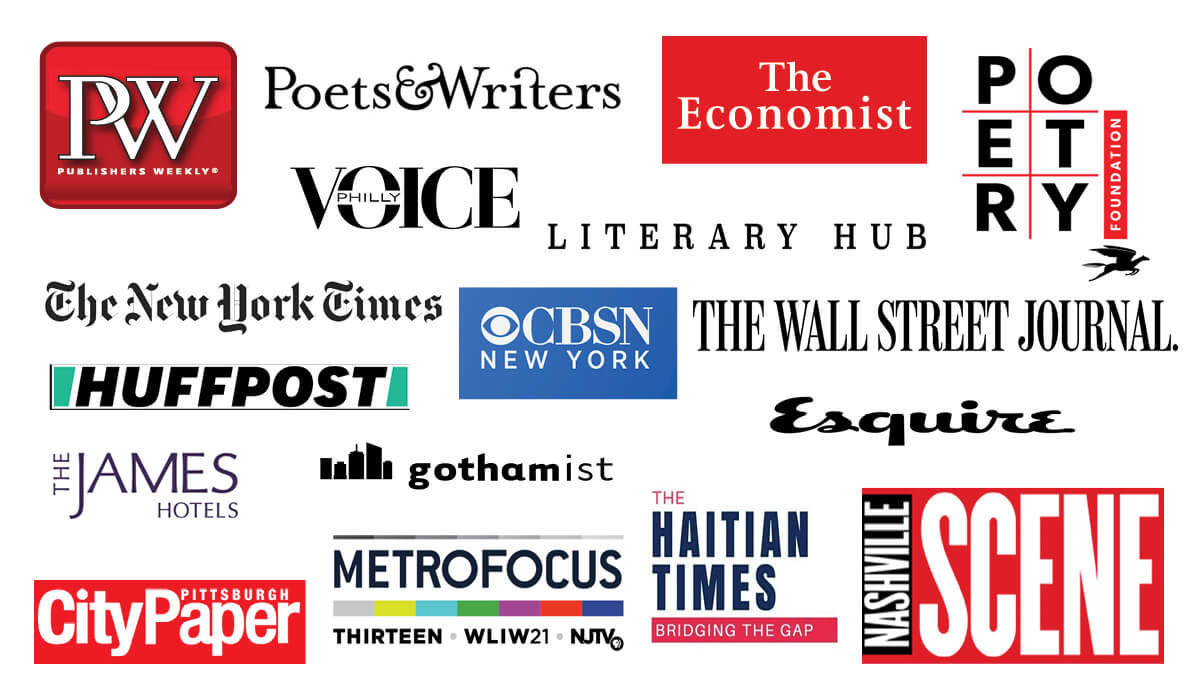 MEDIA KIT
Click to download hi-resolution images of our Seriously Entertaining shows and Bookmobile program, as well as House of SpeakEasy logos. For further information, please email [email protected].
PRESS REEL
Watch a short video about our work on stage, in schools, and on the road.
7.19.22 | THE 2022 Amazon Literary grants. PUBLIshing perspectives.
"It's inspiring to see how organizations have evolved and become even more focused on the communities they serve. House of Speakeasy's Book Mobile is a great example of this."
1.3.22 | Arts Groups Innovate to Battle Covid-cased revenue downturn. Associated Press.
"House of SpeakEasy, a literary nonprofit that connects writers to audiences, was able to reach 16 new cities, and other countries, during the pandemic through livestreams and other virtual events."
10.4.21 | THE BROOKLYN BOOK FESTIVAL COMES BACK. PUBLISHERS WEEKLY.
"The energy I'm getting from everyone is excitement that this is back and that we can get physical books into the community."
10.4.21 | TAKING BOOKS TO THE STREETS: THE HOUSE OF SPEAKEASY BOOKMOBILE. BOOK RIOT.
"The Bookmobile brings the book-browsing experience curbside, offering a range of diverse books for free or low-cost."
7.15.21 | So You Don't Want to Order a Book From Amazon. Bushwick Daily.
"…the literary nonprofit's Bookmobile will be parked at Myrtle-Wyckoff on July 14 and 28th. You'll see it right as you exit the subway."
6.24.21 | Giving the Gift of Reading. The NYCHA Journal.
"'The books encourage thoughtful conversations and smiles when we read to them a few times each day. The children would like to say, 'Thank you' as well.'"
6.15.21 | Glittering Stars, Fabulous Real Estate, and a Wonderful Cause in Southampton. Avenue.
""Golden Age: The Genius of Architect Grosvenor Atterbury," was a star-studded benefit for the House of SpeakEasy, a literary nonprofit which provides services including mentoring and a bookmobile to underserved city communities."
6.3.21 | Amazon Literary Partnership announces 2021 literary grants. Amazon.
""By serving a diverse array of communities, from The Bronx to East Harlem to Brooklyn, we helped build home libraries for thousands of New Yorkers traditionally underserved by the literary arts."
10.05.20 | NYC's House of SpeakEasy Lands Arts Grant. Publishers Weekly.
"Thanks to the Helen Frankenthaler Foundation, our literary and arts programming can expand just at the moment it's needed most."
10.01.20 | Helen Frankenthaler Foundation Awards $1.5 Million to Culture Orgs. Valentina Di Liscia, Hyperallergic.
"House of SpeakEasy…will get $100,000 over two years to continue its 'Bookmobile' project – a roving truck that brings books and educational programming by writers and artists to young audiences in underserved communities."
5.27.20 | 2020 Amazon Literary Partnership Grant Recipients Announced. John Maher, Publishers Weekly.
"The Amazon Literary Partnership champions organizations that support writers, poets, translators, and diverse voices at every stage in their career."
5.13.20 | Inside the Book Industry's Battle to Stay Afloat During the COVID-19 Crisis. Adrienne Westenfeld, Esquire.
"I've really enjoyed connecting with audiences in this way. People check in from all over. That kind of wall-smashing is exciting to me."
4.3.20 | Where to Donate to Bolster a Quieted Arts Scene. Samuel Rutter, The New York Times Style Magazine.
"[SpeakEasy] brings authors and audiences together in innovative ways, often through live performances."
12.02.19 | The Best Things to Do in NYC This Week, From a John Lennon Tribute To A Book Fair. Oriana Leckert, Gothamist.
"The literary event features one-of-a-kind tomes and ephemera purveyed by an array of rare-book dealers from across the borough."
10.09.19 | Introducing The House of SpeakEasy Podcast. Literary Hub.
"…where writers come together to eat, drink, and share stories on a range of themes each week."
8.29.19 | At Brooklyn's 2019 small press flea. Literary Hub.
"…The bookmobile is parked between a food truck and a farmer's market tent, where it can attract the most pedestrian traffic."
7.12.19 | Book Truckin' with House of Speakeasy. John Maher, Publishers Weekly.
"The House of SpeakEasy book truck was on a mission: to spotlight community conversations about the literary arts throughout as much of the country as possible…it did just that."
7.08.19 | After 4,000 miles and 5,000 book giveaways, Poetry to the People is back home. Rob Spillman, LitHub.
"A 4,000 mile round-trip journey from Brooklyn to New Orleans and back…the enthusiasm for story was palpable everywhere [SpeakEasy] went."
6.28.19 | The House of SpeakEasy Book Truck Tour. The Ivy Bookshop.
"SpeakEasy believes strongly that access to books should not be taken for granted and that book ownership should not be a privilege."
6.18.19 | Rob Spillman Reports From the Poetry to the People Tour. Harriet Staff, Poetry Foundation.
"At every step, [SpeakEasy] pressed books into the hands of readers young and old alike. Many were surprised and delighted to hear there was no catch to the free book offer."
6.17.19 | Rob Spillman with greetings from an 1,800-mile, poetry-fueled road trip. Rob Spillman, LitHub.
"We've lost count of the number of books we've given away for free so far, but we haven't lost sight of our goal one bit: expanding access to books and books culture, building a community of book lovers wherever we go."
6.14.19 | A Book Truck Tour is Stopping in Nashville. Erica Ciccarone, Nashville Scene.
"[SpeakEasy is] partnering with local groups to host readings, workshops and story-exchanges led by acclaimed authors and emerging teen talents."
6.12.19 | Poetry to the People Tour. Maggie Millner, Poets & Writers.
"The Poetry to the People Tour allows [SpeakEasy] to share stories and poems in person and make in-person connections across age, race, class, and geographic differences."
6.12.19 | The Poetry to the People tour brings renowned poets to deliver readings outside Carnegie Library. Hannah Lynn, PGH City Paper.
"The team hopes to not only give away free books, but to create a sense of community and belonging for teenagers, for overlooked communities, and for anyone who feels they need their voice to be heard."
6.10.19 | Touring Book Truck to Stop at Free Library This Week. Emily Rolen, Philly Voice.
"…bringing books and poetry to underserved communities…"
5.21.19 | The House of SpeakEasy Book Truck Will Tour The Country. John Maher, Publishers' Weekly.
"Each stop…[included] events hosted by community partners and educators, featuring readings, workshops, and conversations with acclaimed and emerging writers."
9.23.18 | Book truck brings English and French-language books to Flatbush's Little Haiti. Bianca Silva, The Haitian Times.
"[Opening] up to everyone, and part of that means bringing collections of books that are multilingual into our multilingual neighborhoods."
3.01.18 | Fifth Annual House of SpeakEasy Gala Brings Together Literary Luminaries and Philanthropists for an Evening of Celebrating Writers, Students, and Storytelling. Erin Cox, PRWeb.
"…[SpeakEasy's] mission of supporting writers and inspiring the next generation of storytellers and artists."
4.15.16 | Writing Comes to Life at the House of SpeakEasy. The James Hotels Blog.
"Audiences experience live readings and performances from adored writers and literary professionals like they've never seen them before: up close, very personal… . This show is an absolute must."
3.4.16 | It's Not a Reading, It's Literary Cabaret. Joshua Barone, The New York Times.
"A literary mixtape [with] perfect flow and variety."
7.02.14 | Listening In: Susan Cheever at The House of SpeakEasy. MetroFocus.
"A showcase of outstanding literary talent…set in a dinner-theater style, SpeakEasy features a range of writers from different genres."
6.23.14 | The 5 Best Things to Do In NYC Tonight, June 23. Carly Petrone, CBS New York.
"You've never seen a cabaret quite like this…the lineup includes some of the most brilliant minds from the literary and artistic worlds."
6.16.14 | A single theme and a wine list. Anthony Gardner, The Economist.
"The great ping-pong match of Anglo-American cultural exchange resumes with the House of SpeakEasy."
1.31.14 | House of SpeakEasy Takes the Stage. Clare Swanson, Publishers Weekly.
"House of SpeakEasy's mission is manifold…there's a need for genuine, real, physical connection—going somewhere, and having that special alchemy of ideas and companionship."
1.30.14 | Uma Thurman Reads from Moby Dick and Salman Rushdie Wins a Prize at House of SpeakEasy. Regina Weinreich, HuffPost.
"The written word thrives… wit, particularly in the form of irony, has not died."
1.28.14 | 'Think-y Entertainment' For New York's Book-Loving Crowd. Stefanie Cohen, The Wall Street Journal.