Peer-reviewed.
Classroom-tested.
Free.
House of SpeakEasy's innovative, hands-on, interdisciplinary creative arts toolkits bring a diverse range of brilliant literary voices into your classroom.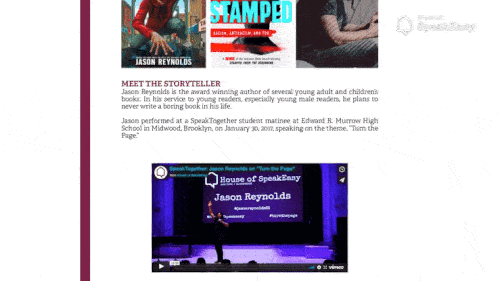 When you join our Teacher Network, you gain access to dozens of creative arts toolkits & multimedia presentations from an array of acclaimed novelists, poets, memoirists & journalists who have performed on our SpeakTogether stages.
Try out two sample toolkits below.
Click the "WATCH VIDEO" hyperlink on the first page of each toolkit to experience the author's talk.
DISCLAIMER: Please note that each author's story was specifically crafted for high school students for use in a school or classroom context. We ask that you honor this confidentiality and refrain from sharing these materials outside of your classroom.