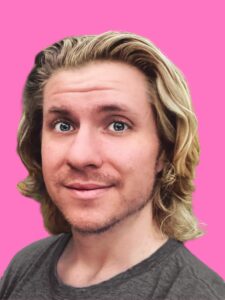 Steven Salvatore
Steven participated in our SpeakTogether student program on December 17, 2021 at Talent Unlimited High School, where they discussed how they became a writer, the publishing process, and their current and forthcoming books, Can't Take That Away and And They Lived…. 
Steven Salvatore is a gay, genderqueer author, writing professor, Mariah Carey lamb, and Star Wars fanatic. They hold an MFA in Creative Writing from The New School. They currently live in Peekskill, New York, with their amazingly patient husband, whose name is also Steve. They are the author of Can't Take That Away and also the co-founder of the Pride Book Festival.
Purchase this writer's book via our virtual storefront on Bookshop.com, the bookselling platform that supports independent bookstores. A portion of proceeds from all book purchases will go toward helping support SpeakEasy's nonprofit mission and our literary programs on stage, in schools, and on the road with The SpeakEasy Bookmobile.
BUY NOW