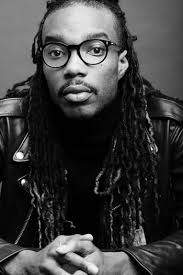 Yahdon Israel
Yahdon led a Summer Writing Workshop for SpeakTogether at Talent Unlimited High School on July 9, 2018, and July 16, 2018. Yahdon also performed at a SpeakTogether student matinee at Edward R. Murrow High School in Midwood, Brooklyn, speaking on the evening's themes, "You Only Live Once" on December 1, 2017, and "It's Now Or Never" on October 3, 2017.
Yahdon Israel is the editor of Brooklyn Magazine. He has also written for Avidly, The New Inquiry, LitHub, and Poets & Writers. As the Awards and Membership VP of the National Book Critics Circle, he runs a popular Instagram page promoting literature and fashion under #Literaryswag and hosts a web show for writers called LIT.
Purchase this writer's book via our virtual storefront on Bookshop.org, the bookselling platform that supports independent bookstores. A portion of proceeds from all book purchases will go toward helping support SpeakEasy's nonprofit mission and our literary programs on stage, in schools, and on the road with The SpeakEasy Bookmobile.
BUY NOW