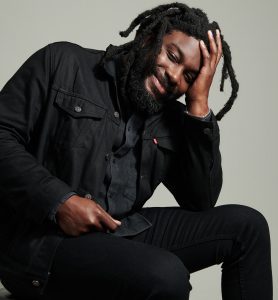 Photo by James J. Reddington
Jason Reynolds
Jason performed at a SpeakTogether student matinee at Edward R. Murrow High School in Midwood, Brooklyn, on January 30, 2017, speaking on the theme, "Turn the Page." Jason also performed on stage for Seriously Entertaining at Joe's Pub at The Public Theater on May 10, 2017, speaking on the evening's theme, "All Together Now."
Jason Reynolds is an award-winning and #1 New York Times bestselling author. Jason's many books include Miles Morales: Spider-Man, the Track series (Ghost, Patina, Sunny, and Lu), Long Way Down, which received a Newbery Honor, a Printz Honor, and a Coretta Scott King Honor, and Look Both Ways, which was a National Book Award Finalist. He collaborated with Ibram X. Kendi to write Stamped: Racism, Antiracism, and You. His most recent book is Ain't Burned All the Bright. Recently named the National Ambassador for Young People's Literature, Jason has appeared on The Daily Show with Trevor Noah, Late Night with Seth Meyers, and CBS This Morning. He is on faculty at Lesley University, for the Writing for Young People MFA Program and lives in Washington, DC. 
You can find his ramblings at JasonWritesBooks.com.
In his own words: "I create characters first. I love people. I love the ticks and hiccups of humanity. So I start there and distill the characters until they are real. Then they do all the work for me."
Purchase this writer's book via our virtual storefront on Bookshop.org, the bookselling platform that supports independent bookstores. A portion of proceeds from all book purchases will go toward helping support SpeakEasy's nonprofit mission and our literary programs on stage, in schools, and on the road with The SpeakEasy Bookmobile.
BUY NOW