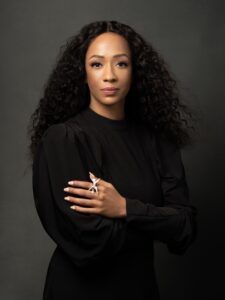 Rachel Eliza Griffiths
Rachel performed at a SpeakTogether student matinee at Edward R. Murrow High School in Midwood, Brooklyn, on October 3, 2017, speaking on the theme, "It's Now or Never." Rachel also performed on stage for Seriously Entertaining at Joe's Pub on November 1, 2017, speaking on the evening's theme, "Fear Itself." She is scheduled to perform at Seriously Entertaining's September 19, 2023 show on the theme "Fortune Favors."
Rachel Eliza Griffiths is a poet, visual artist, and novelist. She is a recipient of the Hurston/Wright Foundation Legacy Award and the Paterson Poetry Prize and was a finalist for a NAACP Image Award. Griffiths is also a recipient of fellowships from many organizations, including Cave Canem Foundation, Kimbilio, the Provincetown Fine Arts Work Center, the Robert Rauschenberg Foundation, and Yaddo. Her work has been published in The New York Times, The New Yorker, Tin House, and other publications. Promise is her first novel.
In her own words: "Much of my work engages and embodies the use of lyric and of the image. As a photographer and painter, I often bring the energy of visual art towards language. I'm shaken and struck by rhythms and arrhythmias. Much of my paintings and photographs employ text and language. It's better for me when it's all messy and complicated."
Purchase this writer's book via our virtual storefront on Bookshop.org, the bookselling platform that supports independent bookstores. A portion of proceeds from all book purchases will go toward helping support SpeakEasy's nonprofit mission and our literary programs on stage, in schools, and on the road with The SpeakEasy Bookmobile.
BUY NOW