Introducing House of SpeakEasy's latest venture, the SpeakEasy Podcast, where writers come together to eat, drink, and share stories on a range of themes each week. Hosted by SpeakEasy's co-founders, Amanda Foreman and Lucas Wittmann, episodes will feature previously recorded storytelling performances from our live Seriously Entertaining shows at Joe's Pub at The Public Theater in New York City as well as new audio segments from our outreach programs, including our bookmobile outings and work with high school students.
Over the course of our first season, you'll have a front-row seat for our dynamic literary cabarets and also go behind-the-scenes for a glimpse of how our work is impacting communities.
Stay tuned for future episodes and subscribe now wherever you listen to podcasts.
As Good As Gold
Though we were unable to host our March Seriously Entertaining show live at Joe's Pub due to the coronavirus, we recorded these original stories prepared by our March speakers, tied to the theme "As Good as Gold" for our podcast. This episode features Anne Nelson, journalist and author of the new book Shadow Network: Media, Money, and the Secret Hub of the Radical Right examining the 2016 election, how it went unpredictably wrong, and what religious radio shows in the Midwest had to do with it; artist, activist, and author of the new book Stop Telling Women to Smile: Stories of Street Harassment and How We're Taking Back Our Power, Tatyana Fazlalizadeh sharing how her art expresses who she is as a woman…a woman who isn't always polite; and Philip Kennicott,Washington Post art and architecture critic and author of Counterpoint: A Memoir of Bach and Mourning talking about finding Nathan, the greatest dog in the world…except for Nathan's one significant flaw. This episode features songs "The Royal Telephone" and "City of Gold," plus a brief portion of "The Goldberg Variations."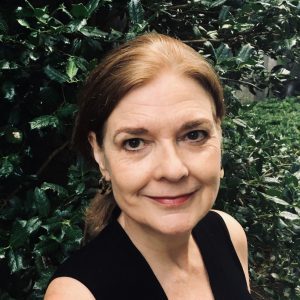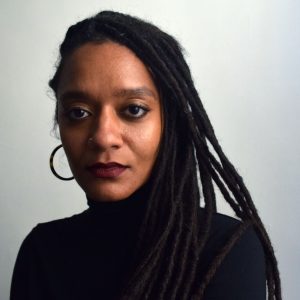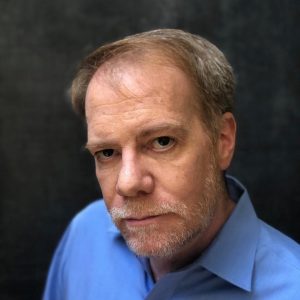 (Street art by Tatyana Fazlalizadeh below)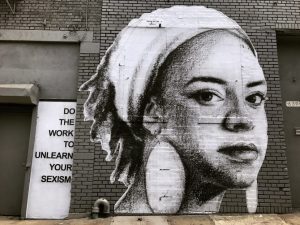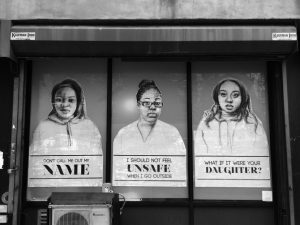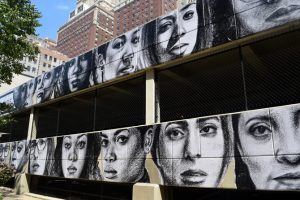 A Literary Mixtape
"Our sixth and final episode of the season presents a literary mixtape highlighting performances from SpeakEasy's inaugural year 2014-15. Since we were digging back into our archives, it seemed fitting to select stories that similarly looked backward in time: Historian Simon Winchester, who, at the age of 17 lands a job as a mortuary assistant quickly learns a valuable lesson about "Plays With Matches" by not fearing the dead. In "Falling for Perfection," comedian and former The Daily Show writer Elliott Kalan reminisces about growing up in two different New York Cities and the powerful influence of movies, from Gremlins to Ghostbusters. And for "Summertime Blues," philosopher Rebecca Newberger Goldstein shares an origin story from the summer of 1957, when, after the Hungarian uprising, relatives come to live with her bringing mystery, unfamiliar language, and questions that would end up shaping her life choices."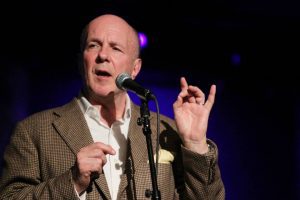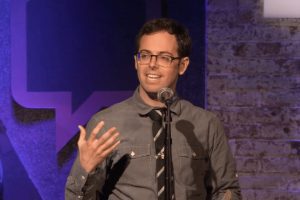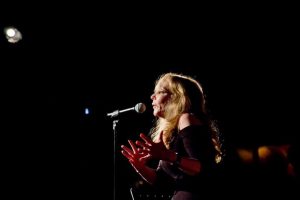 It's Not You
The fifth episode of the SpeakEasy Podcast highlights stories united by the theme "It's Not You": Pulitzer Prize-winning author and critic Margo Jefferson, memoirist George Hodgman, and novelist David Ebershoff share their journeys of negotiating issues of identity, memory, and what it means to be you."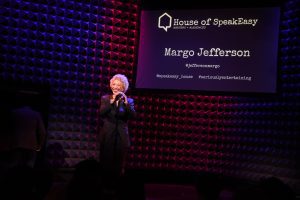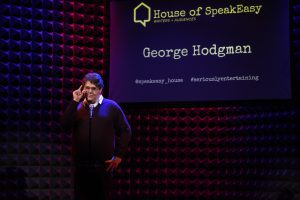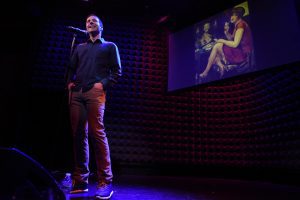 Failing Up
SpeakEasy's fourth episode features storytellers dealing with the most fortuitous kind of failure, charting paths of those who've succeeded despite the odds, the ones who've tried and failed and yet try again. Theoretical cosmologist and professor of physics and astronomy Janna Levin shares the story of Joe Weber and his firm belief in the power of gravitational waves. Novelist and Whiting Award–recipient Mitchell S. Jackson talks about the decade of perseverance it took to produce his first novel. And political analyst and CNN anchor John Avlon talks about the Peter Principle through history and how failing up is really the story of our country.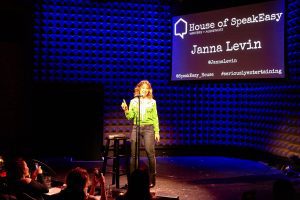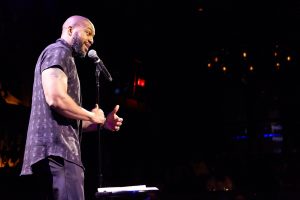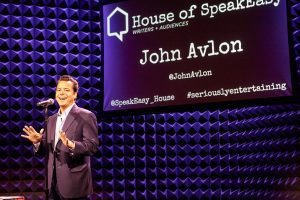 When Strangers Meet
Our third episode features writers exploring two basic questions: 1) who is a stranger anyway? and 2) what exactly can strangers tell us about ourselves? Nigerian-born novelist, poet, and playwright Chris Abani on airports, melancholy, and turning oneself inside out; literary critic, poet, and transgender activist Steph Burt ruminates on the lessons they learned about only being one person at a time; and award-winning novelist and essayist Geoff Dyer discusses being estranged from any notion of strangeness.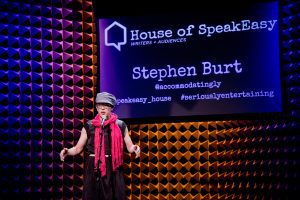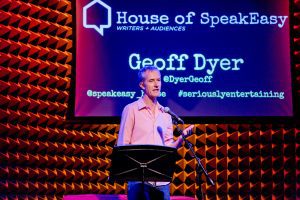 Razor's Edge
Our second episode features writers living at "The Razor's Edge": Man Booker Prize–shortlisted Madeleine Thien showing us both sides of the blade; poet and Pulitzer Prize–finalist Elizabeth Alexander giving us "The Light of the World;" and bestselling author James Rebanks sharing a love letter to his father from The Shepherd's View.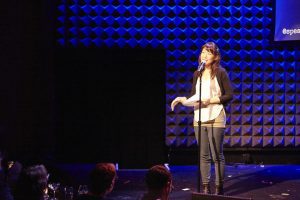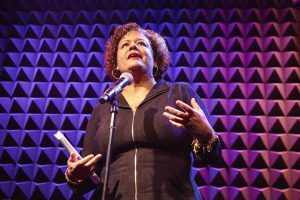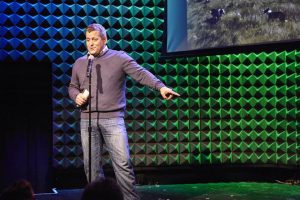 This Is Not the End
Our inaugural podcast season kicks of with the episode, "This Is Not the End": TV writer and "Babylon 5" creator J. Michael Straczynski discusses the power of walking away; author Alexander Chee explains why endings are so damn hard; and novelist Colum McCann talks about beginnings to demonstrate why nothing really ever ends.