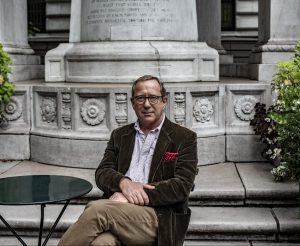 Adam Begley
Adam Begley is the author of Houdini: The Elusive American (2020); The Great Nadar: The Man Behind the Camera (2017); and Updike (2014). For many years the books editor of The New York Observer, he has been a Guggenheim fellow and a fellow at the Leon Levy Center for Biography. His writing has appeared in The New York Times, Wall Street Journal, Financial Times, London Review of Books, TLS, and Spectator. He lives with his wife in Cambridgeshire, England.
In September of 2017, Adam spoke at House of SpeakEasy's Seriously Entertaining show, "One for the Road," alongside Ann Brashares, Erica Wagner, and Loudon Wainwright III.
Photo Credit: Zach Gross
In his own words: "There is a mysterious core at the heart of talent; what makes one person more talented than another?"
You can purchase this writer's work via our storefront on Bookshop.com, the online bookselling platform that helps support independent bookstores.  Doing so will also generate revenue for House of SpeakEasy Foundation and allow us to continue fulfilling our mission of connecting writers and readers, championing the best writing of today.
BUY NOW