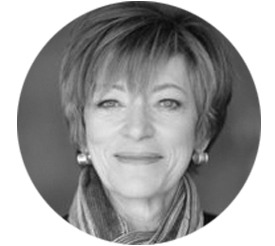 Amanda Vaill
Sandy performed on stage for Seriously Entertaining at Joe's Pub at The Public Theater on May 20, 2014, speaking on the evening's theme, "Ink Runs Dry." Watch it below.  
Amanda Vaill is a biographer, screenwriter, and journalist. She is the author of Somewhere: The Life of Jerome Robbins, for which she received a Guggenheim Fellowship, and the bestselling Everybody Was So Young: Gerald and Sara Murphy: A Lost Generation Love Story, which was a finalist for the National Book Critics' Circle Award in biography. In addition, she is a co-author of Seaman Schepps: A Century of New York Jewelry Design, an illustrated study of the work of her designer grandfather, and has edited or contributed to a number of other books, most recently The Beatles Are Here!, an anthology of reminiscences about the eponymous band's first visit to the United States fifty years ago. She was also the writer of the screenplay for the PBS/American Masters documentary, Jerome Robbins: Something to Dance About, which won both an Emmy and a Peabody Award. Her book, a work of narrative historical nonfiction entitled Hotel Florida: Truth, Love and Death in the Spanish Civil War, was published in April 2014.
Amanda was educated at Harvard University and spent a number of years in book publishing before becoming a full-time writer in 1992. Her journalism and criticism have appeared in such publications as Architectural Digest, ArtNews, Ballet Review, Esquire, New York Magazine, Town & Country, and The Washington Post. She lives in New York City.
Purchase this writer's book via our virtual storefront on Bookshop.org, the bookselling platform that supports independent bookstores. A portion of proceeds from all book purchases will go toward helping support SpeakEasy's nonprofit mission and our literary programs on stage, in schools, and on the road with The SpeakEasy Bookmobile.
BUY NOW
https://www.houseofspeakeasy.org/between-the-crisis-and-the-catastrophe-amanda-vaill-on-the-spanish-civil-war/