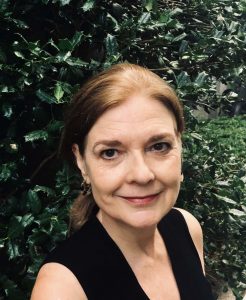 Anne Nelson
Anne performed on stage for Seriously Entertaining at Joe's Pub at The Public Theater on March 1, 2020, speaking on the evening's theme, "As Good As Gold." Listen to it below. 
Anne Nelson is the author of Shadow Network: Media, Money, and the Secret Hub of the Radical Right a ground-breaking exploration of the coalition of fundamentalists and oil who helped bring Trump to power. NPR called Shadow Network "fascinating…she makes her case soberly and with a historian's scrupulousness." Nelson draws on her background in Oklahoma to describe the nation's regional fault lines, and the ways that the collapse of local journalism has widened the divide. Nelson wrote for the Yale Daily News as an undergraduate and began her professional career on the editorial staff of The New Yorker. At 25 she became an award-winning war correspondent in El Salvador and Guatemala. Her reports and photography appeared in The New York Times, The Los Angeles Times, NPR, the BBC, and the CBC. She was the founding staff member for Human Rights Watch's Americas Division and served as the executive director of the Committee to Protect Journalists for four years. In 1995 she became the director of the International Program of the Columbia School of Journalism. She has taught and conducted research on digital media and development at Columbia's School of International and Public Affairs since 2002. Nelson is the recipient of the Livingston Award for her reporting on the Philippines, a Guggenheim Fellowship for her book Red Orchestra, a resistance movement in Nazi Germany, and a Bellagio Fellowship for her research on the social impact of digital media. Suzanne's Children, her book on a Jewish rescue network in Occupied Paris, was a finalist for the Jewish Book Award. Her 2001 play The Guys, dealing with the aftermath of the 9/11 attacks, has been produced in 50 states and 15 countries, and as a feature film starring Sigourney Weaver. Nelson is a member of the New York Council for the Humanities and the Council on Foreign Relations.
Purchase this writer's book via our virtual storefront on Bookshop.org, the bookselling platform that supports independent bookstores. A portion of proceeds from all book purchases will go toward helping support SpeakEasy's nonprofit mission and our literary programs on stage, in schools, and on the road with The SpeakEasy Bookmobile.
BUY NOW