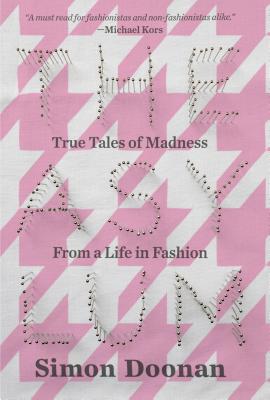 The Asylum: True Tales of Madness from a Life in Fashion
by Simon Doonan
NY: Blue Rider Press, 2013; 288pp
Simon Doonan once called Kate Moss "a working-class slag from a crap town." This got him into hotter water than he deserved given that it was hedged by a friendly subordinate "just like me." All he wanted was to express the pride and solidarity Brits from such crap towns (Doonan: Reading; Moss: Croydon) tend to feel. His riotous latest, The Asylum, out in nattily tactile paperback next month (those pinheads are extruded, amigos), is full of moments when figures from the world of fashion have opened their mouths and been promptly misunderstood. That time Karl Lagerfeld said Adele was "a little too fat, but she has a beautiful face and a divine voice." When Tom Ford slipped a delicate "cunt" into a eulogy. Galliano-gate. In his author's note, Doonan quotes Diana Vreeland's "Exaggeration is my only reality;" by the end of the book one feels this really is the only context in which haute couture can possibly be understood.
Not that Doonan's not fully cognizant of the high absurdity of fashion at its most fabulously unacceptable. The book's title is double-edged: "A nuthouse? A refuge? Or maybe both. Yes, an asylum in both senses of the word. A place where unemployable crazy people are always welcome." It's these crazies who're the subject of Doonan's big-hearted gossipfest, which is a diamond mine of anecdotes and remembrances. Arch, erudite, and completely on point, each chapter might as well begin with a cry of En garde! so sharp are his powers of observation. Doonan on Anna Wintour:
La Wintour is all-pervasive and all-powerful. She represents many mythological archetypes, so many, in fact, that it's hard to keep track of them all: She is mother, soothsayer, monarch, deity, avatar, savior, teacher, redeemer, judge, kingmaker and executioner all rolled into one. So complex and powerful is her image that it is nothing short of a miracle that we ever dream about anyone else.
The Asylum is full of these character thumbnails. Through Doonan's eyes we meet many of the major figures of late-twentieth/early-twenty-first-century fashion: Diana Vreeland, Alexander McQueen, Michael Kors, Rei Kawakubo, and Thom Browne; the aforementioned Ford, Galliano, and Lagerfeld. Even more fun, we see them in all their Technicolor glory. The Michael Kors show which brought the house down, quite literally… on Anna Wintour's head. The Miguel Adrover show with the live goat. Tom Ford giving our intrepid narrator a wedgie aboard a yacht. Any of McQueen's extravaganzas:
There was always this magnificent sense of impending catastrophe. Would the gals get electrocuted as they sloshed through all that water? How will the models, in their Blade Runner-inspired, condom-tight dresses, navigate those treacherous glass stairs? Answer: They won't. Oops! There goes another one.
It's sort of a memoir too. Simon Doonan was born the year the Queen acceded to the throne, and raised in the aforementioned "crap" Reading. "My genes are liberally accessorized with manic depression and schizophrenia," he writes:
If I did not find an outlet for my nuttiness and my gayness, if I was forced to live in our crap town for the rest of my days, then I would probably end up like poor batty Uncle Ken. He sat by the fire, rolling his own cigarettes in a nasty-looking metal contraption, staring into the middle distance and chatting to invisible entities.
No more Are You Being Served? in John Lewis Reading; it was off to America for young Simon.
Window dressing for Maxfield in LA, a spot of set design on Beverly Hills Cop ("If I had taken the points, I would now be lolling in a chateau in the south of France mainlining Beluga caviar and guzzling crème de menthe"), then on to New York and a long and distinguished career at Barneys, where he has the opportunity to practise what he preaches:
My displays are jarring and punky and intentionally shocking: coyotes abducting babies, mannequins in coffins, fashion suicides, Christmas in July, a trailer-park tornado […] Condoms, broken toilets, live vermin… it is hard for me to think of something inappropriate which I have not plonked in a display window at one time or another […] I have even plopped a replica of Margaret Thatcher in a black leather dominatrix frock in a holiday window.
He worked with Diana Vreeland in the '80s, introduced Rei Kawakubo to the lowlife delights of Frederick's of Hollywood and Playmates in the '90s (Rei went "into an intense, unblinking fugue state […] They were there for hours"), and auditioned for The Devil Wears Prada in the '00s. His taste and counsel became indispensable to many in the international fashion set. He published a handful of books, including Eccentric Glamor: Creating an Insanely More Fabulous You (2008), Gay Men Don't Get Fat (2012), and Nasty: My Family and Other Glamorous Varmints (2005).
Industrious, sure. But The Asylum is as much about "pahty tahme" as work. The boozy lunches, the crazy parties, the openings. Although scarcely pessimistic about the future — he highlights the exponential growth of the fashion industry in recent decades — Doonan also sings of a gaudy, freewheeling New York City long dissolved in a solution of gentrification and new policing tactics. Gone is legendary strip joint the Gaiety. Gone is the menagerie that once dwelled in the basement of Barneys. Gone, as Doonan reminds us in the most sobering chapter of an otherwise deliciously lurid volume, are many of the shining lights of the '70s and '80s, victims of "the disease of the century."
All the more reason to raise a battle cry today for "the misfits, kooks and original thinkers of the world." Fashion, as Doonan sees it, "has always been a safe space, a salon des refusés for people who might otherwise be unemployed, institutionalized, or forced into street theater, or stripping, or even fluffing."
Besides, a life dedicated in equal parts to "pahty tahme" and the sort of graft that ends in you being hired to decorate the White House for the holidays seems a life pretty damn well conducted. Vive La Mode!
Simon Doonan will appear at Runnin' Wild, the House of SpeakEasy Gala, on January 28 at City Winery. Tickets can be purchased here. We will return to our regular pricing for our Seriously Entertaining show No Return on March 9.
Sponsored by: