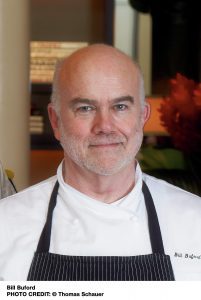 Bill Buford
Bill performed on our virtual stage for Seriously Entertaining on May 27, 2020, speaking on the evening's theme, "All in Due Time."  Watch it below. 
Bill Buford has been a writer and editor for The New Yorker since 1995. Before that, he was the editor of Granta magazine for sixteen years and, in 1989, became the publisher of Granta Books. He is also the author of Among the Thugs (Norton, 1992). He was born in Baton Rouge, Louisiana, grew up in California, and was educated at UC Berkeley and Kings College, Cambridge, where he was awarded a Marshall Scholarship for his work on Shakespeare's plays and sonnets. In 2020, he shared his newest book, Dirt: Adventures in Lyon as a Chef in Training, Father, and Sleuth Looking for the Secret of French Cooking. He lives in New York City with his wife, Jessica Green, and their two sons.
Purchase this writer's book via our virtual storefront on Bookshop.org, the bookselling platform that supports independent bookstores. A portion of proceeds from all book purchases will go toward helping support SpeakEasy's nonprofit mission and our literary programs on stage, in schools, and on the road with The SpeakEasy Bookmobile.
BUY NOW