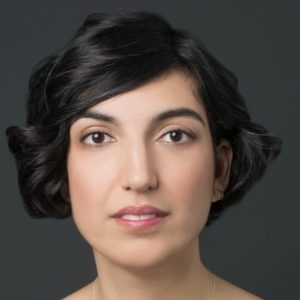 Elif Batuman
Elif performed on stage for Seriously Entertaining at Joe's Pub at The Public Theater on May 10, 2017, speaking on the evening's theme, "All Together Now." 
Elif Batuman's novel, The Idiot, was a finalist for the Pulitzer Prize in fiction, and its sequel, Either/Or, was released in 2022. She has been a staff writer at The New Yorker since 2010. Her first book, The Possessed: Adventures with Russian Books and the People Who Read Them, was a finalist for the National Book Critics Circle Award. Her stories have been anthologized in the 2014 Best American Travel Writing and the 2010 Best American Essays collections. She is the recipient of a Whiting Award, a Rona Jaffe Foundation Writers' Award, and a Paris Review Terry Southern Prize for Humor. She lives in New York.
In her own words: "Thought has all kinds of shorthands and jumps built into it which aren't allowed in writing. So writing is never just transcription, it's also discovery and constant surprise. 'Controlling the narrative' is a matter of balancing some fidelity to your original impulse against a willingness to follow the surprises."
Purchase this writer's book via our virtual storefront on Bookshop.org, the bookselling platform that supports independent bookstores. A portion of proceeds from all book purchases will go toward helping support SpeakEasy's nonprofit mission and our literary programs on stage, in schools, and on the road with The SpeakEasy Bookmobile.
.
BUY NOW