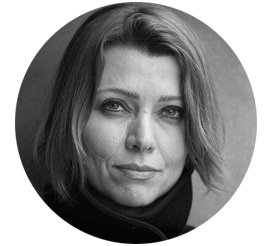 Elif Shafak
Elif Shafak is an award-winning British-Turkish novelist and the most widely read female author in Turkey. She writes in both Turkish and English, and has published seventeen books, eleven of which are novels. Her work has been translated into 50 languages. Her latest novel, 10 Minutes 38 Seconds in this Strange World, was shortlisted for the Booker Prize and RSL Ondaatje Prize; and chosen Blackwell's Book of the Year. Her previous novel, The Forty Rules of Love, was chosen by BBC among 100 Novels that Shaped Our World. Shafak holds a PhD in political science and she has taught at various universities in Turkey, the US and the UK, including St Anne's College, Oxford University, where she is an honorary fellow. 
She is a member of Weforum Global Agenda Council on Creative Economy and a founding member of ECFR (European Council on Foreign Relations). An advocate for women's rights, LGBT rights and freedom of speech, Shafak is an inspiring public speaker and twice TED Global speaker, each time receiving a standing ovation. Shafak contributes to major publications around the world and she was awarded the medal of Chevalier de l'Ordre des Arts et des Lettres and is a Fellow of the Royal Society of Literature. In 2017 she was chosen by Politico as one of the twelve people "who will give you a much needed lift of the heart". Shafak has judged numerous literary prizes, and chaired the Wellcome Prize and is presently judging the Orwell Prize. 
In her own words: "Writing is a tribute to solitude. It is choosing introversion over extroversion, lonely hours/days/weeks/years over fun and sociability. Writers might enjoy a good gossip or a crazy party once in a while, but the act of writing and the nexus of our lives is pure solitude."
You can purchase this writer's work via our storefront on Bookshop.com, the online bookselling platform that helps support independent bookstores.  Doing so will also generate revenue for House of SpeakEasy Foundation and allow us to continue fulfilling our mission of connecting writers and readers, championing the best writing of today.
BUY NOW
Click below for more: