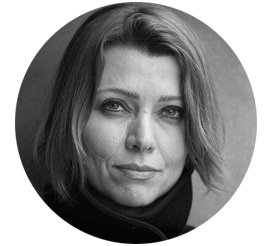 Elif Shafak
Elif Shafak is an award-winning novelist, memoirist, and essayist and the most widely read female writer in Turkey. Critics have named her "one of the most distinctive voices in contemporary Turkish and world literature." Her books have been published in more than 40 countries and she was awarded the honorary distinction of Chevalier of the Order of Arts and Letters. She writes in both Turkish and English and blends Western and Eastern traditions of storytelling. Her latest novel 10 Minutes 38 Seconds in this Strange World (2019) was shortlisted for the Booker Prize and chosen Blackwell's Book of the Year.
Besides writing fiction, Shafak is an active political commentator, columnist and public speaker. She is a regular contributor to major newspapers around the world and has taught at various universities in Turkey, the UK, and the US.
An active social media figure with nearly 1.7 million Twitter followers, Shafak lives with her husband and two children and divides her time between Istanbul and London.
In her own words: "Writing is a tribute to solitude. It is choosing introversion over extroversion, lonely hours/days/weeks/years over fun and sociability. Writers might enjoy a good gossip or a crazy party once in a while, but the act of writing and the nexus of our lives is pure solitude."
You can purchase this writer's work via our storefront on Bookshop.com, the online bookselling platform that helps support independent bookstores.  Doing so will also generate revenue for House of SpeakEasy Foundation and allow us to continue fulfilling our mission of connecting writers and readers, championing the best writing of today.
BUY NOW
Click below for more: