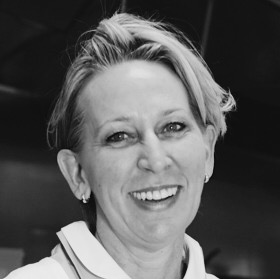 Gabrielle Hamilton
Gabrielle performed on stage for Seriously Entertaining at Joe's Pub at The Public Theater on December 6, 2016, speaking on the evening's theme, "Aiding and Abetting."
Gabrielle Hamilton is a memoirist as well as the chef and owner of PRUNE in NYC's East Village. She was nominated for Best Chef NYC in 2009 and 2010 by the James Beard Foundation, and in 2011, she won the category. She was the Season 4 host of the PBS show The Mind of a Chef. Gabrielle's New York Times bestseller Blood, Bones & Butter: The Inadvertent Education of a Reluctant Chef, has been published in six languages and won the James Beard Foundation's award for Writing and Literature in 2012. Her cookbook Prune was published in 2014. Most recently, she wrote The Best American Food Writing 2021 with Silvia Killingsworth.
In her own words: "The perfectness of reading is when a book hits you and you hit it and during those hours you are completed in a way you have never been before."
Purchase this writer's book via our virtual storefront on Bookshop.org, the bookselling platform that supports independent bookstores. A portion of proceeds from all book purchases will go toward helping support SpeakEasy's nonprofit mission and our literary programs on stage, in schools, and on the road with The SpeakEasy Bookmobile.
BUY NOW