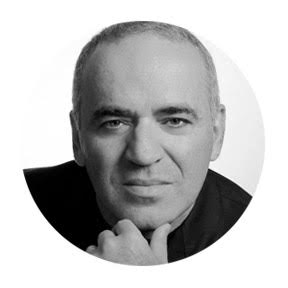 Garry Kasparov
Garry performed on stage for Seriously Entertaining at City Winery on February 2, 2016, speaking on the evening's theme, "I'll Have Another." Watch it below.
Garry Kasparov is the author of many books, most recently Deep Thinking: Where Machine Intelligence Ends and Human Creativity Begins, released April 2017. Along with several series of acclaimed chess books, he is the author of How Life Imitates Chess (2007) on decision-making and strategy and the prescient Winter Is Coming: Why Putin and the Enemies of the Free World Must Be Stopped (2015). In 1985, he came to international fame at the age of 22 as the youngest world chess champion in history. In 2005, Kasparov retired from competitive chess to join the Russian pro-democracy movement. In 2012, Kasparov was named chairman of the New York-based Human Rights Foundation and in 2017 he founded the Renew Democracy Initiative. He is also the founder of the Kasparov Chess Foundation, which promotes the teaching of chess in education systems around the world. Kasparov makes frequent media appearances and regularly contributes editorials to CNN, the Washington Post, and the NY Daily News. He frequently speaks to tech and business audiences on artificial intelligence and what he calls "the human-machine relationship."
In his own words: "If the road to hell is paved with good intentions, compromises on principles are the streetlights."
Purchase this writer's book via our virtual storefront on Bookshop.org, the bookselling platform that supports independent bookstores. A portion of proceeds from all book purchases will go toward helping support SpeakEasy's nonprofit mission and our literary programs on stage, in schools, and on the road with The SpeakEasy Bookmobile.
BUY NOW