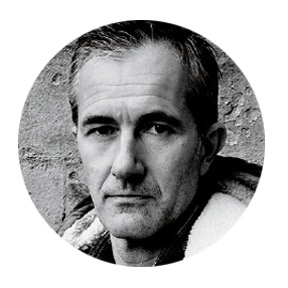 Geoff Dyer
Geoff performed on stage for Seriously Entertaining at Joe's Pub at The Public Theater on June 13, 2016, speaking on the evening's theme, "When Strangers Meet." Watch it below.
Geoff Dyer is a novelist, essayist, and genre-defying writer of over a dozen books. His latest is The Last Days of Roger Federer: And Other Endings. A Fellow of the Royal Society of Literature, an Honorary Fellow of Corpus Christi College, Oxford, and a member of the American Academy of Arts and Sciences, he has won numerous awards including the E. M. Forster Award from the American Academy of Arts and Letters and a National Book Critics Circle Award for Criticism. He is currently Writer in Residence at the University of Southern California.
In his own words: "Don't write in public places…it should be done only in private, like any other lavatorial activity."
Purchase this writer's book via our virtual storefront on Bookshop.org, the bookselling platform that supports independent bookstores. A portion of proceeds from all book purchases will go toward helping support SpeakEasy's nonprofit mission and our literary programs on stage, in schools, and on the road with The SpeakEasy Bookmobile.
BUY NOW