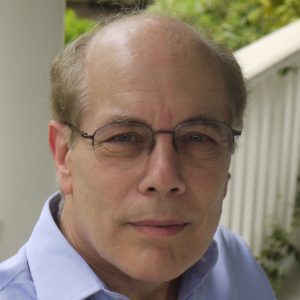 Glenn Frankel
Glenn performed on stage for Seriously Entertaining at Joe's Pub at The Public Theater on June 14, 2017, speaking on the evening's theme, "By The Light Of The Moon."
Glenn Frankel is an author and journalist, based in Arlington, Virginia. Most recently, he served as the director of the School of Journalism and G.B. Dealey Regents Professor at the University of Texas at Austin. He has also spent time as a visiting journalism professor at Stanford University and an Alicia Patterson Fellow. Notably, he won the 1989 Pulitzer Prize for International Reporting when he served as Washington Post reporter, editor, and bureau chief in London, Southern Africa, and Jerusalem. His book, The Searchers: The Making of an American Legend, was a New York Times and Los Angeles Times bestseller and a Library Journal Top Ten book for 2013.  His book High Noon explores the Hollywood blacklist and the making of the classic western. His most recent book is Shooting Midnight Cowboy.
In his own words: "I like to write about people when they are facing a moral crisis that sums up who they are."
Purchase this writer's book via our virtual storefront on Bookshop.org, the bookselling platform that supports independent bookstores. A portion of proceeds from all book purchases will go toward helping support SpeakEasy's nonprofit mission and our literary programs on stage, in schools, and on the road with The SpeakEasy Bookmobile.
BUY NOW