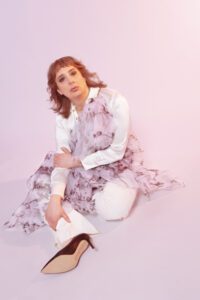 Grace Lavery
Grace performed on stage for Seriously Entertaining's return to Joe's Pub at The Public Theater on February 8, 2022, speaking on the evening's theme, "A Rose by Another Name." Watch it below.
Grace Lavery is an associate professor of English at University of California, Berkeley. A prominent public intellectual and activist, she has contributed to the Los Angeles Review of Books, Autostraddle, the New Inquiry, Them, the Guardian, Foreign Policy, and Slate. She's been sober since January 2016 and "full time" as a trans person since March 2018. Please Miss: A Heartbreaking Work of Staggering Penis is her newest book, and her book Pleasure and Efficacy is expected in May 2023.
Purchase this writer's book via our virtual storefront on Bookshop.org, the bookselling platform that supports independent bookstores. A portion of proceeds from all book purchases will go toward helping support SpeakEasy's nonprofit mission and our literary programs on stage, in schools, and on the road with The SpeakEasy Bookmobile.
BUY NOW