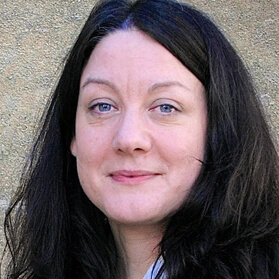 Helen Macdonald
Helen performed on our virtual stage for Seriously Entertaining on October 20, 2020, speaking on the evening's theme, "Nerves Of Steel." Watch it below.
Helen Macdonald is a writer, poet, illustrator and naturalist, and an affiliated research scholar at the Department of History and Philosophy of Science at the University of Cambridge. She is the author of the bestselling H Is for Hawk, as well as a cultural history of falcons, titled Falcon, and three collections of poetry, including Shaler's Fish. Her newest book is Vesper Flights. Macdonald was a Research Fellow at Jesus College, Cambridge, has worked as a professional falconer, and has assisted with the management of raptor research and conservation projects across Eurasia. She now writes for the New York Times Magazine.
Purchase this writer's book via our virtual storefront on Bookshop.org, the bookselling platform that supports independent bookstores. A portion of proceeds from all book purchases will go toward helping support SpeakEasy's nonprofit mission and our literary programs on stage, in schools, and on the road with The SpeakEasy Bookmobile.
BUY NOW