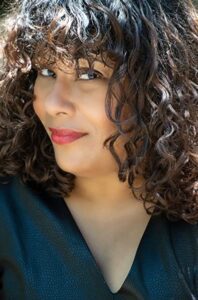 Ivelisse Rodriguez
Ivelisse performed at a SpeakTogether student matinee at Edward R. Murrow High School in Midwood, Brooklyn, on September 26, 2018, speaking on the theme, "A Place for Us." Ivelisse also performed on stage for Seriously Entertaining at Joe's Pub at The Public Theater on June 25, 2019, speaking on the evening's theme, "No Place Like Home."
Born in Arecibo, Puerto Rico, Ivelisse Rodriguez grew up in Holyoke, Massachusetts. She earned a B.A. in English from Columbia University, an M.F.A. in creative writing from Emerson College, and a Ph.D. in English-creative writing from the University of Illinois at Chicago.
Her short story collection, Love War Stories, a 2019 PEN/Faulkner finalist and a 2018 Foreword Reviews INDIES finalist, was published by The Feminist Press in summer 2018.  Her fiction chapbook The Belindas was published in 2017. She has also published fiction in All about Skin: Short Fiction by Women of Color, Obsidian, Label Me Latina/o, Kweli, the Boston Review, the Bilingual Review, Aster(ix), and other publications. She is the founder and editor of an interview series, published in Centro Voices, the e-magazine of the Center for Puerto Rican Studies at Hunter College, focused on contemporary Puerto Rican writers in order to highlight the current status and the continuity of a Puerto Rican literary tradition from the continental US that spans over a century. She was a senior fiction editor at Kweli and is a Kimbilio fellow and a VONA/Voices alum. She is currently working on the novel The Last Salsa Singer about 70s era salsa musicians in Puerto Rico.
Purchase this writer's book via our virtual storefront on Bookshop.org, the bookselling platform that supports independent bookstores. A portion of proceeds from all book purchases will go toward helping support SpeakEasy's nonprofit mission and our literary programs on stage, in schools, and on the road with The SpeakEasy Bookmobile.
BUY NOW