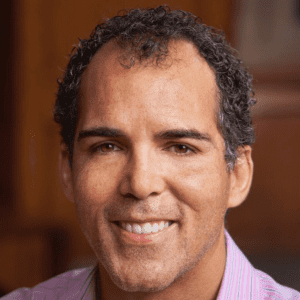 James Forman Jr.
James performed on stage for Seriously Entertaining at Joe's Pub at The Public Theater on December 5, 2017, speaking on the evening's theme, "Caught In The Act."
James Forman Jr. is one of the nation's leading authorities on race, education, and the criminal justice system. Forman worked as a law clerk for Judge William Norris of the 9th Circuit Court of Appeals and Justice Sandra Day O'Connor of the U.S. Supreme Court. After clerking, he took a job at the Public Defender Service in Washington, D.C., where for six years he represented juveniles and adults in felony and misdemeanor cases. In 1997, along with David Domenici, he started the Maya Angelou Public Charter School, an alternative school for dropouts and youth who had previously been arrested. The Maya Angelou school has been open for almost twenty years, and in that time has helped hundreds of vulnerable young people find a second chance, begin to believe in themselves, graduate, get jobs, and attend college. At Yale Law School, where has taught since 2011, Forman teaches Constitutional Law and a course called "Race, Class, and Punishment." Recently, he took his teaching behind prison walls, offering a seminar called Inside-Out Prison Exchange: Issues in Criminal Justice, which brought together, in the same classroom, 10 Yale Law students and 10 men incarcerated in a CT prison.
Forman's first book, Locking Up Our Own: Crime and Punishment in Black America, was awarded the 2018 Pulitzer Prize for General Non-Fiction.
In his own words: "Three of my favorite writers are Bryan Stevenson, Jelani Cobb, and Ta Nehisi-Coates. If any of them writes anything I drop whatever I'm doing and go about reading it. I draw heavily on a school of legal thinking called Critical Race Theory, especially its invitation to weave personal narrative into legal and policy arguments."
Purchase this writer's book via our virtual storefront on Bookshop.org, the bookselling platform that supports independent bookstores. A portion of proceeds from all book purchases will go toward helping support SpeakEasy's nonprofit mission and our literary programs on stage, in schools, and on the road with The SpeakEasy Bookmobile.
BUY NOW