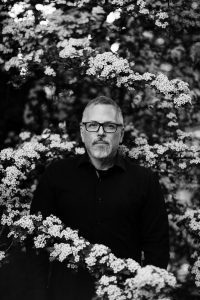 Jeff VanderMeer
Jeff performed on our virtual stage for Seriously Entertaining on August 18, 2020, speaking on the evening's theme, "Those Were The Days." Watch it below.
Jeff VanderMeer's NYT-bestselling Southern Reach trilogy has been translated into over 35 languages. The first novel, Annihilation, won the Nebula Award and Shirley Jackson Award, and was made into a movie by Paramount in 2018. Recent works include Dead Astronauts, Borne (a finalist for the Arthur C. Clarke Award), The Strange Bird. These novels, set in the Borne universe, are being developed for TV by AMC and continue to explore themes related to the environment, animals, and our future. His most recent book is Hummingbird Salamander, named one of NPR's Best Books of 2021. His short story "Secret Life" has been made into a graphic novel by Theo Ellsworth.
Called "the weird Thoreau" by The New Yorker, VanderMeer frequently speaks about issues related to climate change and storytelling, including at DePaul, MIT, and the Guggenheim. He has taught at the Yale Writers' Conference and the Miami International Book Fair, among many others, and was the 2016-2017 Trias Writer-in-Residence at Hobart and William Smith Colleges in upstate New York. He is the recipient of an NEA-funded Florida Individual Artist Fellowship for excellence in fiction and a Florida Artist Enhancement Grant. Nonfiction has appeared in the New York Times, the Guardian, Vulture, Esquire.com, and the Los Angeles Times. He was a 2019 National Book Award judge for fiction.
Purchase this writer's book via our virtual storefront on Bookshop.org, the bookselling platform that supports independent bookstores. A portion of proceeds from all book purchases will go toward helping support SpeakEasy's nonprofit mission and our literary programs on stage, in schools, and on the road with The SpeakEasy Bookmobile.
BUY NOW