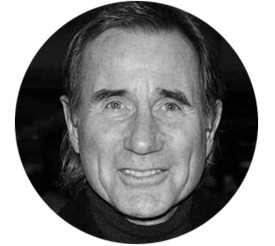 Jim Dale
Jim Dale, MBE, was born in England and first went on stage at the age of nine. As an actor, songwriter and voice artist, Jim has been honored with two Grammy Awards, a Tony Award and an Academy Award nomination, the latter for his 1966 hit song "Georgy Girl." He's most famous for his roles in Britain's long-running Carry On series and the Disney moviePete's Dragon, as well as his stage performances in Scapino, Barnum, Me and My Girl, A Day in the Death of Joe Egg, Candide, and The Threepenny Opera. More recently he narrated the US edition of the "Harry Potter" audiobooks, winning two Grammys in the process. His one-man show, Just Jim Dale, received excellent reviews during its Off-Broadway run in 2014: "You'll buy whatever Jim Dale is selling," wrote the New York Daily News, "and the merchandise is first rate." Jim has lived in New York for thirty years and is married to American gallerist Julie Schafler Dale.
In his own words: "I'm still a kid inside and adventure is adventure wherever you find it."
To buy this writer's work from our bookselling partner, Barnes & Noble, click below. Doing so will also generate income for House of SpeakEasy Foundation – another way we're connecting you, and underserved communities of New York City, with the best writing of today.
BUY NOW
Click below for more:
https://www.houseofspeakeasy.org/jim-dale-on-harry-potter-carry-on-and-his-return-to-the-west-end/