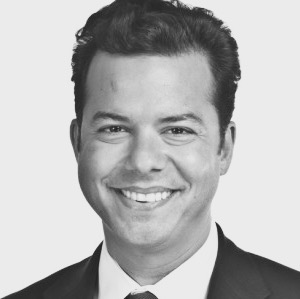 John Avlon
John performed on stage for Seriously Entertaining at Joe's Pub at The Public Theater on February 7, 2017, speaking on the evening's theme, "Falling Up."  
John Avlon is the Editor-in-Chief of The Daily Beast and a CNN political analyst. He is the author of Independent Nation: How Centrists Can Change American Politics and Wingnuts: How the Lunatic Fringe is Hijacking America as well as editor of the anthology Deadline Artists: America's Greatest Newspaper Columns. He serves on the board of Citizens Union of New York and The Bronx Academy of Letters as well as the advisory board of the Theodore Roosevelt Association. Avlon is also a co-founder of No Labels – a group of Democrats, Republicans, and Independents, dedicated to the politics of problem-solving and making government work again. His latest book is called Lincoln and the Fight for Peace. He is married to Margaret Hoover, and they live in New York City with their son, Jack.
In his own words: "The reality is that politics follows the lines of physics: every action creates an equal and opposite reaction."
Purchase this writer's book via our virtual storefront on Bookshop.org, the bookselling platform that supports independent bookstores. A portion of proceeds from all book purchases will go toward helping support SpeakEasy's nonprofit mission and our literary programs on stage, in schools, and on the road with The SpeakEasy Bookmobile.
BUY NOW