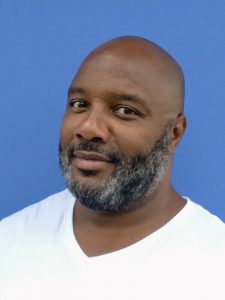 Jubi Arriola-Headley
Jubi led a 6-week poetry workshop in Fall 2020 for 9th-grade students at University Heights High through our SpeakTogether program.
Jubi Arriola-Headley (he/him) is a Black queer poet, storyteller, and first-generation United Statesian who lives with his husband in South Florida and whose work explores themes of manhood, vulnerability, rage, tenderness, and joy. He's a 2018 PEN America Emerging Voices Fellow, holds an MFA from the University of Miami, and his poems have been published with Ambit, Beloit Poetry Journal, Nimrod, Southeastern Humanities Review, The Nervous Breakdown, and elsewhere. Jubi's debut collection of poems, original kink, is available now from Sibling Rivalry Press.
Purchase this writer's book via our virtual storefront on Bookshop.org, the bookselling platform that supports independent bookstores. A portion of proceeds from all book purchases will go toward helping support SpeakEasy's nonprofit mission and our literary programs on stage, in schools, and on the road with The SpeakEasy Bookmobile.
BUY NOW