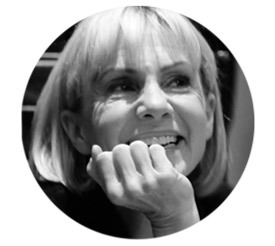 Kate Mosse
Kate Mosse OBE is an English novelist, non-fiction author, playwright and short story writer.  Her historical fiction includes the international bestselling Languedoc Series, Labyrinth, Sepulchre and Citadel, adventure novels inspired by the history and landscape of Carcassonne .  Labyrinth won the Best Reads Category at the British Book Awards in 2006 and Ridley Scott's television film adaptation will be broadcast on American television in May. Mosse's Gothic short fiction – The Winter Ghosts and The Mistletoe Bride & Other Haunting Tales ­- are also #1 UK bestsellers.  Her plays include Endpapers and Syrinx, which won the PPC award for best new play in 2009.
Mosse is the Co-Founder & Chair of the Board of the prestigious Baileys Women's Prize for Fiction (formerly the Orange Prize), which celebrates outstanding international fiction written by women.  She is on the Board of the National Theatre in London, on the Executive Committee of WOW and a Patron of the Consort of Twelve.  Named international Woman of Achievement for her Contribution to the Arts, Mosse won the Spirit of Everywoman Award in 2012 and in 2013 she was awarded an OBE for services to literature in the Queen's Birthday Honours list.  Mosse is a regular presenter and guest on BBC television and radio.
To buy this writer's work from our bookselling partner, Barnes & Noble, click below. Doing so will also generate income for House of SpeakEasy Foundation – another way we're connecting you, and underserved communities of New York City, with the best writing of today.
BUY NOW
Click below for more:
https://www.houseofspeakeasy.org/kate-mosse-and-remaking-history/