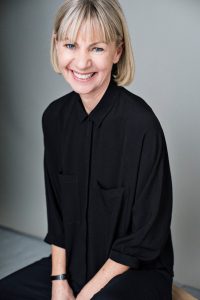 Kate Mosse
Kate Mosse OBE is a Sunday Times/New York Times award-winning novelist, playwright, nonfiction author, feminist essayist and interviewer. The author of eight novels and short story collections – including the international multimillion bestselling Languedoc Trilogy (Labyrinth, Sepulchre and Citadel) and a new major, four-part historical series, The Burning Chambers, inspired by the 16th century French Wars of Religion and the history and landscape of Carcassonne.  The second in the sequence, The City of Tears, will be published by Minotaur Books in January 2021.  Mosse's No 1 bestselling Gothic fiction includes The Winter Ghosts, The Mistletoe Bride & Other Haunting Tales ­and The Taxidermist's Daughter, which she has adapted for Chichester Festival Theatre for the Summer 2021 Season. Mosse is working on the screenplay for The Winter Ghosts with her son, script writer and editor Felix Mosse, and together they are writing a major 11th century drama series for television inspired by the untold histories of women during the Norman Conquest of Britain.
Mosse is the Founder Director of the Women's Prize for Fiction (formerly the Orange Prize and the Baileys Prize), the world's leading annual celebration of writing by women, which celebrates its 25th anniversary in 2020. From 2011 – 2019 she was a Trustee of the Royal National Theatre in London (Deputy Chair 2014-2019), she is on the Executive Committee of Women of the World, and a Patron of several local charities and organisations including the Consort of Twelve and Sussex Together. Mosse hosts the pre and post performance interview series at Chichester Festival Theatre in West Sussex, England, is a regular interviewer for literary, theatre and feminist events in the UK and Europe, as well as for BBC television and radio, and is currently Visiting Professor of Creative Writing and Contemporary Literature at the University of Chichester. Named international Woman of Achievement for her Contribution to the Arts, Mosse won the Spirit of Everywoman Award in 2012 and in 2013 she was awarded an OBE for services to literature in the Queen's Birthday Honours list.
To buy The Burning Chambers from our bookselling partner, Bookshop, click below. Doing so will also generate income for House of SpeakEasy Foundation – another way we're connecting you, and underserved communities of New York City, with the best writing of today.
BUY NOW
Click below for more:
https://www.houseofspeakeasy.org/kate-mosse-and-remaking-history/