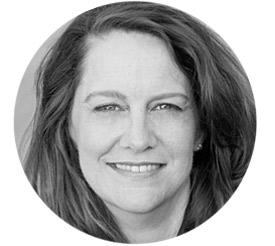 Kelly Carlin
Kelly performed on stage for Seriously Entertaining at City Winery on September 22, 2015, speaking on the evening's theme, "Altered States." Watch it below.  
Kelly Carlin is a thinker, writer, talker, and doodler. She's funny, serious, silly, and deep. Sometimes she wishes she were Carol Burnett, other days it's Patti Smith, but mostly it's Oprah Winfrey. It's complicated. Her fascinations range from discovering how to live a true and deep life, to freedom of expression, to the evolution of consciousness and the American psyche. She's a practitioner of Zen Buddhism, has a Master's in Jungian/Archetypal psychology, and comes from a family steeped in comedy, big ideas, and warm hearts. Now that she's found her voice in the world, she's figuring out how to use it for good while having a load of fun.
Lately, Kelly's focus has been centered on teaching and coaching women to find their voices and essential selves through her year-long program Women on the Verge. She also loves revealing her take on the culture and psyche of modern life on her podcast Waking from the American Dream.
In 2015, her best-selling memoir, A Carlin Home Companion: Growing up with George, was published by St. Martin's Press, and her honesty, keen insight, and humor were on full display. Jay Mohr summed up the power of her work by saying, "For anyone that has ever not been sure who they are, this book is for you. There is a landing spot. Let Kelly Carlin be your beacon."
In the last nine years, she toured her solo show internationally, produced the critically acclaimed Showtime show, The Green Room with Paul Provenza, created her popular podcast, Waking from the American Dream, and has interviewed dozens of iconic and popular comedians on her SiriusXM show, The Kelly Carlin Show. She has spoken at various venues and conferences, such as The Chautauqua Institute, Imagine No Religion conference, the Reason Rally, Watermark, and the Boston Ad Club. Through her public speaking and workshops, she has inspired thousands of artists, business leaders, writers, and truth seekers to question the status quo within their lives and culture.
As the daughter of the iconoclast and legendary comedian George Carlin, she has not only taken up the torch of his legacy through her own teaching, writing, and speaking, but by also releasing her father's work through many media, protecting his work and image in the public sphere, and most recently, by donating his archives to the National Comedy Center in Jamestown, NY where they will be on permanent display.
In her own words: "I think the comic's job is always to question authority and question the status quo."
Purchase this writer's book via our virtual storefront on Bookshop.org, the bookselling platform that supports independent bookstores. A portion of proceeds from all book purchases will go toward helping support SpeakEasy's nonprofit mission and our literary programs on stage, in schools, and on the road with The SpeakEasy Bookmobile.
BUY NOW