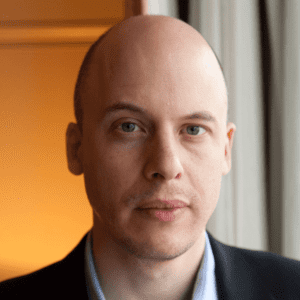 Lev Grossman
Lev performed on stage for Seriously Entertaining at Joe's Pub at The Public Theater on November 1, 2017, speaking on the evening's theme, "Fear Itself."
Lev Grossman is the author of Warp, Codex, and The Magicians series, the first of which was one of The New Yorker's best books of the year. The Magicians books have now been published in twenty-five countries. Grossman was both the lead technology writer and the book critic at Time magazine for fifteen years, from 2002 through 2016, and The New York Times described him as "among this country's smartest and reliable critics." Lev is also the author of The Silver Arrow series, which includes his most recent book, The Golden Swift.
In his own words: "My work is a kind of fusion of fantasy and literary fiction — the idea is to borrow the best elements from both and combine them into something new and interesting."
Purchase this writer's book via our virtual storefront on Bookshop.org, the bookselling platform that supports independent bookstores. A portion of proceeds from all book purchases will go toward helping support SpeakEasy's nonprofit mission and our literary programs on stage, in schools, and on the road with The SpeakEasy Bookmobile.
BUY NOW