A wedding was always an aphrodisiac, full of temporary pairings driven by vicarious hope. Love was in the air, weak and snappy as static electricity.

– Seating Arrangements by Maggie Shipstead (Knopf, 2012)
Maggie Shipstead's debut novel, Seating Arrangements (Knopf, 2012), is a witty social comedy with an exploding whale at its heart. Set largely over the course of two days preceding a wedding on New England island Waskeke, it assumes the perspectives of a series of characters, mostly control-freak father-of-the-bride Winn Van Meter and jilted younger daughter Livia, as it reveals the emotions that coalesce around the lives of the uptight well-to-do as they come together and fall apart. It's funny and sharp and unpleasant and relentlessly well observed.
Winn is a vigorous fifty-nine, a man for whom "each day was a platform for accomplishment". Heavily governed by social mores — he thinks somewhat reproachfully of his daughter Daphne as "a pregnant bride, no point in pretending otherwise" — he spends most of the book obsessing over his prospective entry into a posh golf club called the Pequod. (Appropriately, perhaps, his quarry is somewhat elusive.) He's a patriarch of the old school, imagining and favouring male offspring: "His son would join the Ophidian Club, and Winn would attend the initiation dinner and drink with the boy who would live his life over again, affirming its correctness at every juncture". Instead he and his wife, Biddy, have two girls: Daphne, and Livia, who was also recently pregnant but opted for an abortion after her boyfriend, Teddy, deserted her.
Livia, really, did most of the things he had imagined his son doing. Women couldn't join the Ophidian, but at least she went to Harvard. She was a decent squash player and an avid socializer. She was pretty and sporty and friendly, if also susceptible to cyclical black moods brought on by the lunar rhythm of womanhood.
That he is the father of two girls while his prospective in-laws have four boys is a source of disappointment for Winn even before they're all placed in sexually-charged proximity.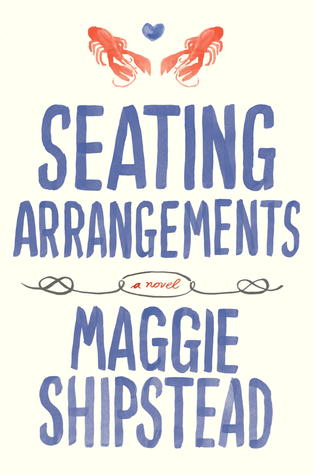 Livia is on a painful rebound-jag and can't understand her father's politeness to Teddy's father when they encounter him in a supermarket ("You can't go around asking about Teddy like he's just another person, Dad.") Worse, she's coming to think that Teddy's decision to join the army is a direct consequence of their break-up. Fuelled by rumours of his post-break-up sex life, she sets her sights on the brothers of her sister's fiancé, in particular the chilly and manipulative Sterling. Meanwhile, her father has a wary eye on one of the bridesmaids, Agatha, a long-time guilty fantasy — did she leave her polka-dot bikini top in his office on purpose? Although decorum will attempt to smother emotion throughout the novel, true feeling finds violent outlets, and by the end the list of injuries will include a broken figure, a protruding bone, a gashed leg, and more than a few sore heads.
We're not far from Cheever country, and Shipstead has an excellent eye for milieu. Her characters are the kind of people who say "Grammer" and wear seersucker pants ("ironically", they claim, but still). Livia, scrutinising her new extended family, sees "familiar confines":
the Ivy League, the Junior League, The Social Register, Emily Post, Lilly Pulitzer, the Daughters of the American Revolution, Windsor knots, cummerbunds, needlepointed tissue box overs, L.L. Bean, Memorial Day, Labor Day, waterfowl-based décor. They were old-fashioned, myopic, beyond reproach.
It's hardly a romantic portrait. Indeed, the relationships between the older characters are all rather unlovely. At one point, Biddy says to Winn, "I think […] you've been the best husband you probably could be", damning with faint praise to say the least. One of my favourite exchanges occurs between Winn and the aged Mopsy, who spends the rehearsal dinner complaining about the temperature of the restaurant:
"Maybe," Winn offered, "you're feeling the chill of approaching death."
She gave him a long, gloomy squint. "This family is falling into the middle class," she said.
Shipstead's narrative style, with the perspective shifting several times in each chapter, is highly effective. At times it's like watching one of those films where the camera's in follow mode: without the benefit of omniscience the reader is subject to the same shocks — in real time — as the characters. Gradually, Shipstead reveals that most of her characters' petty secrets are not as concealed as well as they would like, and this all adds to the bittersweet fog hanging over the island.
And the exploding whale? A gloriously visceral metaphor? Perhaps. You'll have to visit Waskeke to find out.
Maggie Shipstead will appear at the House of SpeakEasy's next show, "In Case of Emergency", on April 28. You can buy tickets here. Her second novel, Astonish Me, set in the ballet world, was published earlier this month by Knopf. For further reading, you can also check out "The Wedding Effect", an entertaining op-ed she wrote for the New York Times around the time Seating Arrangements was published.