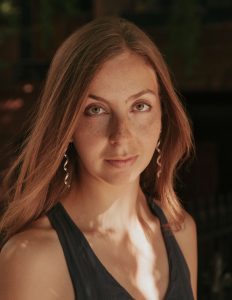 Maria Konnikova
Maria performed on our virtual stage for Seriously Entertaining on July 21, 2020, speaking on the evening's theme, "Are We There Yet." Watch it below.
Maria Konnikova is the author of The Biggest Bluff: How I Learned to Pay Attention, Master Myself, and Win. She is a regular contributing writer for The New Yorker and has written for The Atlantic, The New York Times, Slate, The New Republic, The Paris Review, The Wall Street Journal, Salon, The Boston Globe, Scientific American, Wired, and Smithsonian, among many other publications. Her writing has won numerous awards, including the 2019 Excellence in Science Journalism Award from the Society of Personality and Social Psychology. While researching The Biggest Bluff, Maria became an international poker champion and the winner of over $300,000 in tournament earnings. Maria also hosts the podcast The Grift from Panoply Media and is currently a visiting fellow at NYU's School of Journalism. Her podcasting work earned her a National Magazine Award nomination in 2019. Maria graduated from Harvard University and received her Ph.D. in Psychology from Columbia University.
Purchase this writer's book via our virtual storefront on Bookshop.org, the bookselling platform that supports independent bookstores. A portion of proceeds from all book purchases will go toward helping support SpeakEasy's nonprofit mission and our literary programs on stage, in schools, and on the road with The SpeakEasy Bookmobile.
BUY NOW