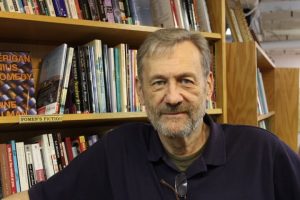 Michael Bronski
Michael performed on stage for Seriously Entertaining at Joe's Pub at The Public Theater on June 18, 2019, speaking on the evening's theme, "The Song Sings Itself."
Michael Bronski is a Professor of the Practice in Media and Activism in Studies of Women, Gender, and Sexuality at Harvard University. He has been involved with LGBT politics since 1969 as an activist, organizer, writer, publisher, editor, and independent scholar. Bronski is the author of Considering Hate: Violence, Goodness, and Justice in American Culture and Politics (co-authored with Kay Whitlock); You Can Tell Just by Looking and 20 Other Myths about LGBT Life and People (co-authored with Ann Pellegrini and Michael Amico), which was nominated for a Lambda Literary Award for Best Non-Fiction; A Queer History of the United States, which was awarded the Israel Fishman Non-Fiction Award for best LGBT book of 2010 by the American Library Association, as well as the Lambda Literary Award for the Best Non-Fiction Book of 2012; among other work. He currently edits the Queer Action / Queer Ideas series for Beacon Press. His latest book is A Queer History of the United States for Young People.
In his own words: "…what I've discovered is that history is many things. It's things in the past, it's textbooks, it's monuments, it's documents, it's what we learn at school, it's what we learn in textbooks, it's what our parents tell us. It's what their parents told them. It's what we celebrate on holidays. Right? And it's all of the above. And it's also not history. What in fact history is, is everything that we do every day and every way that we try to move on, into the future, using what we've accumulated from the past."
Purchase this writer's book via our virtual storefront on Bookshop.org, the bookselling platform that supports independent bookstores. A portion of proceeds from all book purchases will go toward helping support SpeakEasy's nonprofit mission and our literary programs on stage, in schools, and on the road with The SpeakEasy Bookmobile.
BUY NOW