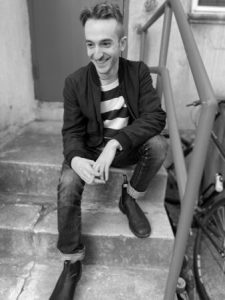 Milo Beckman
Milo performed on our virtual stage for Seriously Entertaining on January 26, 2021, speaking on the evening's theme, "You Don't Say." Watch it below.
Milo Beckman has been addicted to math since a young age. Born in Manhattan in 1995, he began taking math classes at Stuyvesant High School at age eight and was captain of the New York City Math Team by age thirteen. His diverse projects and independent research have been featured in the New York Times, FiveThirtyEight, "Good Morning America," Salon, the Huffington Post, the Chronicle of Higher Education, Business Insider, the Boston Globe, Gothamist, the Economist, and others. He worked for three tech companies, two banks, and a US Senator before retiring at age nineteen to teach math in New York, China, and Brazil, and to work on his new book, Math Without Numbers, which is out now.
In his own words: "If you're someone who's interested in the truth, if you're interested in understanding sort of what's going on in this world and what to do about it, I would say it's really important to listen to what people are saying, but it's also very important to pay attention to what people don't say."
Purchase this writer's book via our virtual storefront on Bookshop.org, the bookselling platform that supports independent bookstores. A portion of proceeds from all book purchases will go toward helping support SpeakEasy's nonprofit mission and our literary programs on stage, in schools, and on the road with The SpeakEasy Bookmobile.
BUY NOW