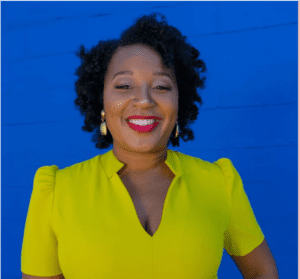 Nikki Murphy
Nikki was a featured author at the "Read Aloud Series" for SpeakTogether through the Children's Defense Fund, Freedom Schools Summer Read Aloud Initiative in the summer of 2021.
Nikki Murphy wrote Home for Hurricanes: A Memoir of Resilience in Poetry and Prose to inspire others, especially other Black women, who have faced similar struggles to know that they are not alone, to find their footing, and to know that there is hope after hurricanes. Her desire is that through her story, readers feel seen and inspired to face life's obstacles with faith and a renewed perspective that uses even the worst experiences as fuel to flourish. As a speaker, Murphy connects with her audience to provide the insight and actionable advice needed to take control of your life and career and make positive change to truly live your values and achieve success. With a unique approach for every audience combined with exceptional guidance, powerful storytelling, and contagious enthusiasm, Murphy guarantees a lasting impression.
Purchase this writer's book via our virtual storefront on Bookshop.org, the bookselling platform that supports independent bookstores. A portion of proceeds from all book purchases will go toward helping support SpeakEasy's nonprofit mission and our literary programs on stage, in schools, and on the road with The SpeakEasy Bookmobile.
BUY NOW