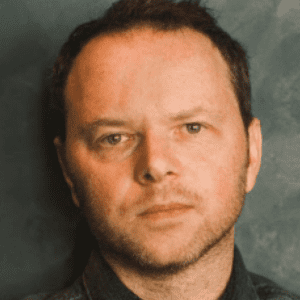 Noah Hawley
Noah performed on stage for Seriously Entertaining at Joe's Pub at The Public Theater on April 25, 2018, speaking on the evening's theme, "Also Known As."
Noah Hawley is an Emmy, Golden Globe, PEN, Critics' Choice, and Peabody Award-winning screenwriter, producer, and author of seven novels, most recently Anthem. Hawley is currently executive producer, writer, and showrunner on FX's award-winning series "Fargo," and "Legion" from FX Productions and Marvel Television. His most recent book is a thriller novel titled Anthem.
In his own words: "Television teaches you a craft of writing. You can't be precious about it, and you have to do your best work in the time allotted…The best thing you can do is leave yourself something from the day before, to have written just enough that if you read it over, now you're back into it and the next thought is coming. It has to be that act of writing. You type until you're writing."
Purchase this writer's book via our virtual storefront on Bookshop.org, the bookselling platform that supports independent bookstores. A portion of proceeds from all book purchases will go toward helping support SpeakEasy's nonprofit mission and our literary programs on stage, in schools, and on the road with The SpeakEasy Bookmobile.
BUY NOW