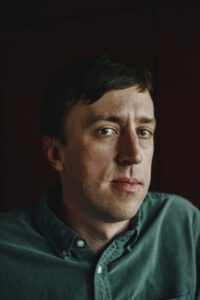 Oliver Roeder
Oliver performed on our virtual stage for Seriously Entertaining on January 27, speaking on the evening's theme, "Come Together." Watch it below.
Oliver Roeder has been a senior writer at FiveThirtyEight and editor of The Riddler, a collection of the site's math puzzles. He studied artificial intelligence as a Nieman Fellow at Harvard University and holds a Ph.D. in economics focused on game theory. His most recent book, Seven Games, details the history of popular games and how humans have developed AI programs that play better than we ever could. He lives in Brooklyn, New York.
Purchase this writer's book via our virtual storefront on Bookshop.org, the bookselling platform that supports independent bookstores. A portion of proceeds from all book purchases will go toward helping support SpeakEasy's nonprofit mission and our literary programs on stage, in schools, and on the road with The SpeakEasy Bookmobile.
BUY NOW