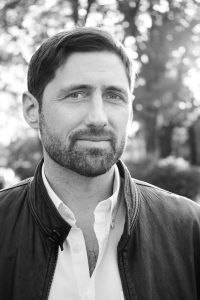 Phil Klay
Phil performed on stage for Seriously Entertaining at Joe's Pub at The Public Theater on November 1, 2016, speaking on the evening's theme, "Razor's Edge."
Phil Klay is a veteran of the U.S. Marine Corps. His short story collection Redeployment won the 2014 National Book Award for Fiction and the National Book Critics' Circle John Leonard Prize for best debut work in any genre and was selected as one of the 10 Best Books of 2014 by The New York Times. His nonfiction work won the George W. Hunt, S.J., Prize for Journalism, Arts & Letters in the category of Cultural & Historical Criticism in 2018. His writing has appeared in The New York Times, The Washington Post, The Wall Street Journal, The Atlantic, The New Yorker, and the Brookings Institution's Brookings Essay series. He is on the Board of Arts in the Armed Forces and he currently teaches fiction at Fairfield University. His most recent book is titled Uncertain Ground: Citizenship in an Age of Endless, Invisible War.
In his own words: "Putting the story on the page is a product of doubt, not a product of certainty… For me, a story begins with questions far more often than with answers. And even if I do have some very fixed notions at the outset of the story, writing usually complicates those notions or destroys them altogether."
Purchase this writer's book via our virtual storefront on Bookshop.org, the bookselling platform that supports independent bookstores. A portion of proceeds from all book purchases will go toward helping support SpeakEasy's nonprofit mission and our literary programs on stage, in schools, and on the road with The SpeakEasy Bookmobile.
BUY NOW