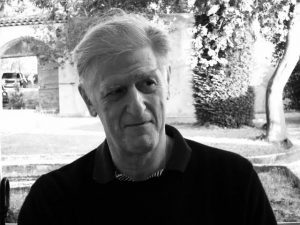 Richard Cohen
Richard performed on stage for Seriously Entertaining at Joe's Pub at The Public Theater on December 6, 2016, speaking on the evening's theme, "Aiding and Abetting." 
Richard Cohen is the author of Chasing the Sun, which was praised by Philip Pullman, author of His Dark Materials, as "utterly fascinating. A vast and all-encompassing delight"; By the Sword, which The Economist called "irresistible . . . extraordinary"; and How to Write Like Tolstoy which was reviewed by The [London] Sunday Times as "wonderful". Cohen is the former publishing director of two leading London publishing houses, and has edited books that have won the Pulitzer, Booker, and Whitbread/Costa prizes. Twenty-one of those have been #1 bestsellers. 
For more than thirty-five years, Cohen has lectured on numerous subjects around the globe, most recently for New York Times Journeys, from talks aboard the Queen Mary 2 to the Scottish Highlands, from the Galapagos Islands to the First World War battlefields of France and Belgium. He was the program director of the Cheltenham Festival of Literature for two years, and during his tenure, it became the largest book festival in the world. For seven years he was a visiting professor in creative writing at the University of Kingston-upon-Thames in London, and for a semester a visiting scholar at Magdalene College, Cambridge. He is a Fellow of the Royal Society of Literature.
Five times U.K. national saber champion, Cohen was selected for the British Olympic fencing team in 1972, 1976, 1980, and 1984 and has been four times world veteran saber champion. 
His latest book, Making History, is an exploration of who gets to write the history books, and how the biases of certain storytellers–from Caesar to Shakespeare to Simon Schama–continue to influence our ideas about history today. Hilary Mantel has commented: "What a brilliant achievement! Like all of Richard Cohen's writing, The History Makers opens a dialogue with the reader – grave and witty, suave yet pointed – erudite yet engaging and full of energy. It has huge scope, but never forfeits the telling detail. It is scholarly, lively, quotable, up-to-date and fun." David Grann, the author of Killers of the Flower Moon and The Lost City of Z, writes: "With meticulous research and riveting anecdotes, Richard Cohen has peeled back the hidden history behind those who record our past. He brilliantly shows how an extraordinary gallery of characters—from prodigies to charlatans, from ideologues to heroes—has exposed, shaped, and, at times, bent and even covered up the facts. In the process, Cohen has achieved what only the finest historians can: he has scrupulously and engagingly made history." Professional historians have been just as generous, with Amanda Foreman commenting: "Richard Cohen has written an utterly engaging love letter to History's hidden storytellers. Provocative, funny but scrupulously fair, The History Makers is a timely reminder that history doesn't write itself."
In his own words: "All writers are unhappy with their work at some time or another. And to a degree rightly so: the vast majority of us don't get things right the first time, and need to revise, rethink, polish."
Purchase this writer's book via our virtual storefront on Bookshop.org, the bookselling platform that supports independent bookstores. A portion of proceeds from all book purchases will go toward helping support SpeakEasy's nonprofit mission and our literary programs on stage, in schools, and on the road with The SpeakEasy Bookmobile.
BUY NOW