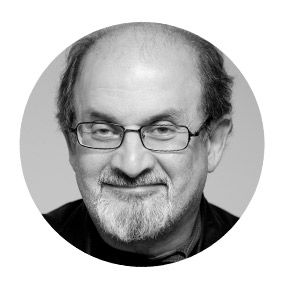 Salman Rushdie
Salman performed on stage for Seriously Entertaining at City Winery on May 20, 2014, speaking on the evening's theme, "Ink Runs Dry." Watch it below.
Salman Rushdie is the author of twelve novels, his most recent being, Quichote. He has also published multiple collections of stories and four works of nonfiction. His adaptation of his book Midnight's Children was performed in London and New York by the Royal Shakespeare Company. A Fellow of the British Royal Society of Literature as well as a Commandeur in the Ordre des Arts et des Lettres, Salman Rushdie has received countless honors and holds honorary doctorates and fellowships from a dozen European and American universities. He is an Honorary Professor in the Humanities at MIT and University Distinguished Professor at Emory University. Between 2004 and 2006 he served as President of PEN American Center and for ten years served as the Chairman of the PEN World Voices International Literary Festival, which he helped to create. In June 2007 he received a Knighthood in the Queen's Birthday Honours. In 2008 he became a member of the American Academy of Arts and Letters and was named a Library Lion of the New York Public Library. His books have been translated into over forty languages.
In his own words: "A poet's work is to name the unnameable, to point at frauds, to take sides, start arguments, shape the world, and stop it going to sleep."
Purchase this writer's book via our virtual storefront on Bookshop.org, the bookselling platform that supports independent bookstores. A portion of proceeds from all book purchases will go toward helping support SpeakEasy's nonprofit mission and our literary programs on stage, in schools, and on the road with The SpeakEasy Bookmobile.
BUY NOW