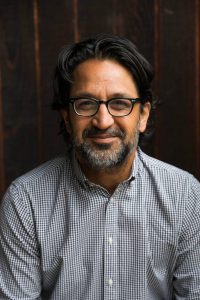 Sameer Pandya
Sameer performed on our virtual stage for Seriously Entertaining on July 21, 2021, speaking on the evening's theme, "Are We There Yet?" Watch it below.
Sameer Pandya is the author of the story collection The Blind Writer, which was longlisted for the PEN/Open Book Award. He is also the recipient of the PEN/Civitella Fellowship. His fiction, commentary, and cultural criticism have appeared in a range of publications, including The Atlantic, Salon, Sports Illustrated, ESPN, and Narrative Magazine. He is an Assistant Professor in the Department of Asian American Studies at the University of California, Santa Barbara. His first novel, Members Only, was published in 2020.
Purchase this writer's book via our virtual storefront on Bookshop.org, the bookselling platform that supports independent bookstores. A portion of proceeds from all book purchases will go toward helping support SpeakEasy's nonprofit mission and our literary programs on stage, in schools, and on the road with The SpeakEasy Bookmobile.
BUY NOW