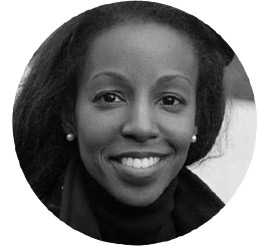 Sarah Lewis
Sarah Lewis is an Assistant Professor of History of Art and Architecture and African and African American Studies at Harvard University where is she is also a Du Bois Fellow. Her essays on race, contemporary art and culture have been published in many journals as well as The New Yorker, Artforum, Art in America and in publications for the Smithsonian, The Museum of Modern Art, and Rizzoli. She has served on President Obama's Arts Policy Committee and as a Trustee of Creative Time, The CUNY Graduate Center, the Brearley School, and the Andy Warhol Foundation of the Visual Arts. She has also held curatorial positions at The Museum of Modern Art and the Tate Modern. Her acclaimed first book, The Rise: Creativity, the Gift of Failure, and the Search for Mastery, investigates how innovation, discovery, and creative progress are all spurred on by advantages gleaned from improbable foundations. Lewis lives in New York City and Cambridge, MA.
In her own words: "A fuller vision comes from our ability to recognize the fallibility in our current and past forms of sight."
To buy this writer's work from our bookselling partner, Barnes & Noble, click below. Doing so will also generate income for House of SpeakEasy Foundation – another way we're connecting you, and underserved communities of New York City, with the best writing of today.
BUY NOW