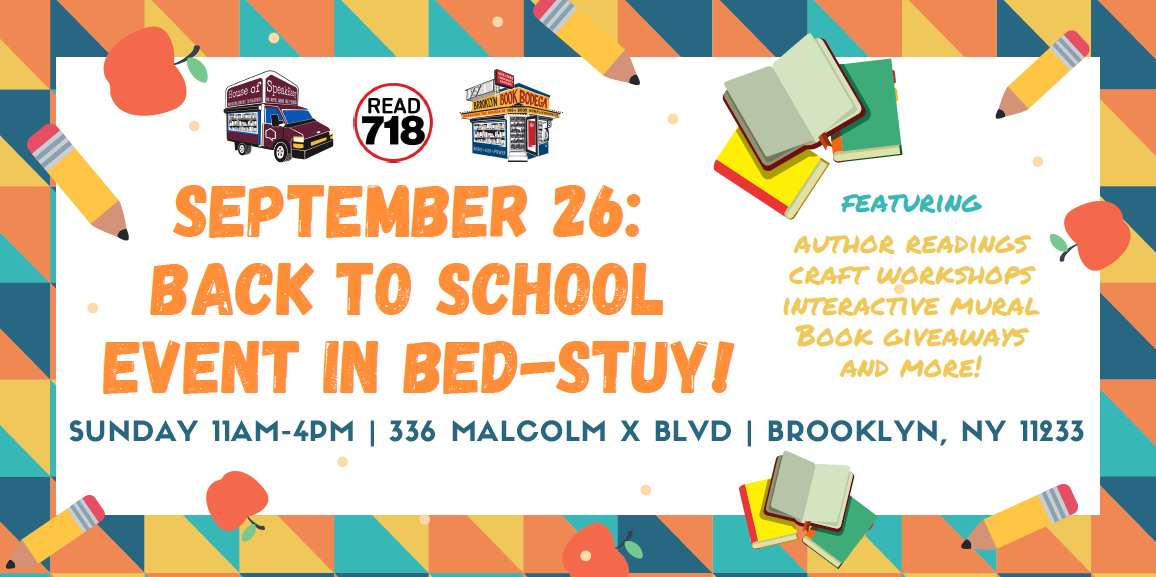 All programs are outdoors and free and open to the public.
Advance registration required for workshops.
Sunday, September 26
11am–4pm
336 Malcolm X Blvd
Brooklyn, NY 11233
House of SpeakEasy invites you to a back-to-school celebration for young readers with a kick-off to the Brooklyn Book Festival Bookends week. Featuring children's book illustrator Daniel J. O'Brien and YA author Torrey Maldonado, interactive mural by Bed-Stuy artist Michela Martello, craft workshops led by Community-Word Project's Nichelle Ryan, and free coloring books courtesy Pen + Brush.
Brooklyn Book Bodega book giveaways for ages 0-18 throughout the day at READ 718's Bed-Stuy center from The SpeakEasy Bookmobile.
11:30 AM: children's book illustrator Daniel J. O'Brien author reading and activity sheets
1 PM: YA author of Tight and What Lane? Torrey Maldonado talk and book signing
All day: Bed-Stuy–based artist Michela Martello's interactive community mural
Multiple workshops throughout the morning and afternoon led by Community-Word Project teaching artist Nichelle Ryan:
"Create Your Own Superhero Trading Card": In this fun mini-workshop, make yourself a superhero in the style of some of your favorites, like Black Panther, Miles Morales, Storm, Luke Cage, Suri, Shang-Chi, and more!). Register here to claim your spot!
A select number of free limited edition copies of Frame by Frame, an animated book of GIF art, will be available on September 26 and October 3 (the Brooklyn Book Festival), while supplies last.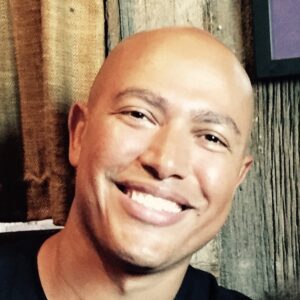 Brooklyn born and raised, Torrey Maldonado empowers young people through his writing, which include his books What Lane?, Tight, and Secret Saturdays. Overcoming failing, culturally unresponsive schools plus hardships in Red Hook projects, Maldonado has become a critically recognized and beloved middle grade and young adult novelist and educator who has taught in NYC public schools for nearly twenty-five years. His writing reflects his and his students' experiences. You can meet him through torreymaldonado.com and @torreymaldonado on Twitter and Instagram.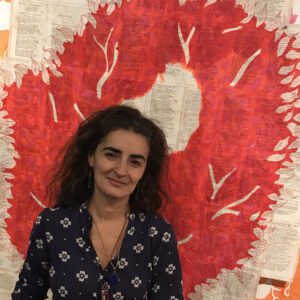 Michela Martello is a multidisciplinary artist influenced by traditional and contemporary sources characterized by a symbolism that distinguishes her practice adding an universal language. In 2019, she received a Special Merit Honor Prize from Cultural Affairs Bureau, Tainan City Government, for her installation Everything Has A Vortex. Her work has been collected and commissioned by both public and private clients, such as Andrea Soros collection and MAAM Museum. In 2020, she was selected for publication in New American Painting Magazine. Michela collaborates with Pen + Brush, an association which supports women's work in literary and visual arts.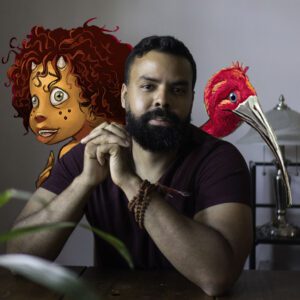 Daniel O'Brien is a Trinidadian-born author and illustrator currently residing in New York with his amazing wife Ashleigh and his loyal dog, Obbie. Daniel holds a BFA in Illustration from The School of Visual Arts. His training, coupled with his love of science, folklore, and nature, inspires Daniel to create otherworldly illustrations. He is enthusiastic about contributing to the telling of Caribbean stories and is honored to be a part of the Caribbean Reads community. Daniel's ultimate goal is to help children in the Caribbean and of Caribbean descent see themselves in the books they read.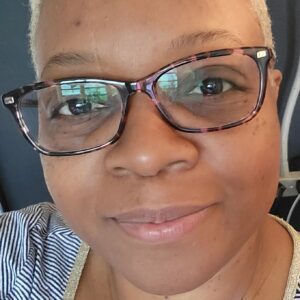 Nichelle Ryan is a multimedia visual artist. She is a painter, photographer, illustrator, printmaker and sculptor. She was born in the British Caribbean and grew up in the bronx where she discovered her passion for art. Nichelle creates her art for therapy, self expression and spiritual awakening. Her work has been exhibited in several gallery shows around New York City, Baltimore and Philadelphia and has worked as a professional photographer for numerous publications. She has been a teaching artist for 8 years now and has taught art to all ages ranging from kindergarten to high school.
* Frame By Frame is the world's first animated book of GIF art, featuring new work from 35 international artists. Lenticular holograms, stickers, and image flips bring animation to the printed page, while QR codes provide a digital experience. Read about it here.