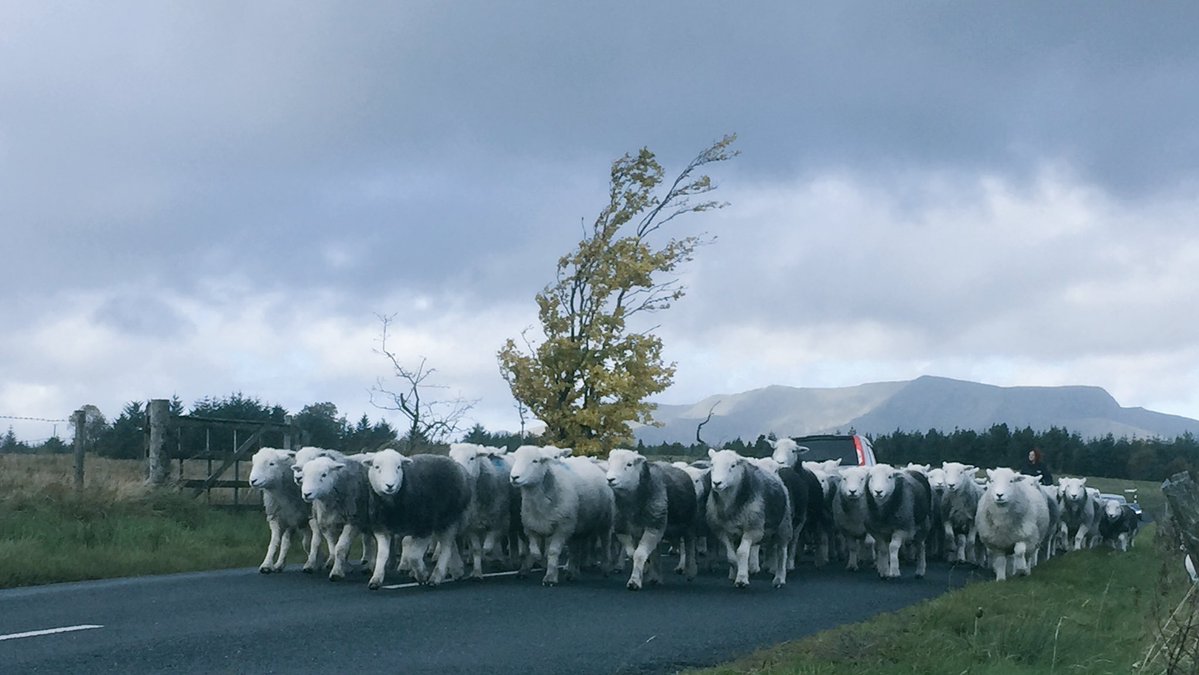 "Thousand shades of grey". Picture from James Rebanks's hugely popular Twitter feed, @herdyshepherd1.
"When English people dream of a rural arcadia, they usually dream of our landscape," writes James Rebanks in The Shepherd's View, just published as an attractive, colorful hardback by Flatiron Books. His latest account of farm life in the Lake District is a photo-filled follow-up to the New York Times best-seller The Shepherd's Life, and every bit as funny, as plainspoken, as gripping, and as suddenly, unexpectedly moving. Rebanks, who combines the poetic eye of Wordsworth with a distinctly English wit (and an iPhone camera), turns the material of his everyday existence as a shepherd into a powerful chronicle of twenty-first century rural life. With understated affection and deadpan humor, he describes both his neighbors and his dogs (guess whom he favors), as well as the ins and outs of livestock shows ("They need to be stylish with good lines and curves. Think shapely, like Beyoncé"). Before his appearance at the House of SpeakEasy on November 1, we spoke about bookishness, Ernest Hemingway, and the sheep that'll probably outlive us all.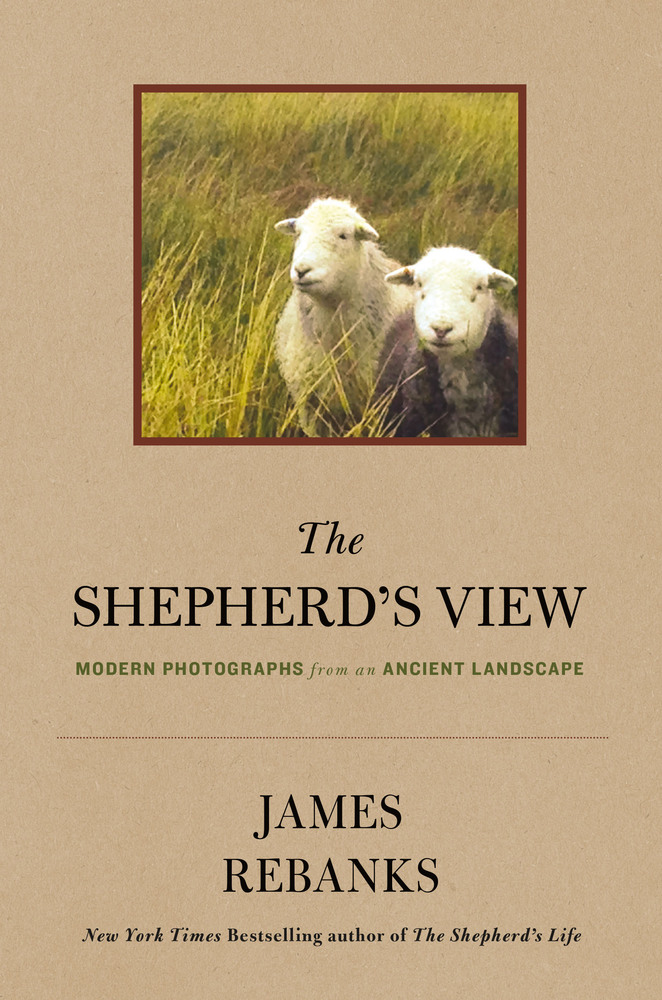 Name: James Rebanks
Age: 42
Where are you from? Matterdale, Cumbria, England.
What is your occupation? Shepherd and writer.
Title of most recent work: The Shepherd's Life and The Shepherd's View.
What are you working on now? A new book.
What's your earliest memory of literature? I left school aged 15 to work as a labourer and had a lot of boring empty nights in winter with nothing to do, so I started reading books from my grandfather's bookcase (he left the books to my mother, his daughter, when he died, before I was born). The first book I picked up was Hemingway's The Old Man and the Sea, I loved it more than anything I had ever read, and I still do. To me it is a work of monumental beauty and grace. I latched on to the relationship between the old man and the boy, and I knew when I read it that I had to write a book someday about my own grandfather. And now I have: it is called The Shepherd's Life. In one book it took me from a sceptic about even reading books to wanting to be a writer. The fact that Hemingway himself now seems like a 'big man' cliché doesn't change my view of the book one bit.
What is your petite madeleine? I don't even know what that means.
Which day in your life would you repeat? Which day would you delete? Maybe I'm weird, but I've never wanted to repeat any part of my life, or delete any of it. I wouldn't be me if I hadn't failed so much, and the best bits were the best because they were so rare and precious. Moments come and go.
What do you hope future civilizations will find in the miraculously preserved shell of your house? I'm fairly sure future generations won't give a shit about me, or anything I've done or owned. But I'd love to think that the descendants of my flock of sheep still live on their mountainside (we call them fells). My sheep are the direct descendants of sheep that grazed those fells a thousand years ago; they have the Norse sheep DNA in them to prove it. And that's one of the things I love about my life: who gets to do something that has hardly changed for five thousand years? Shepherds and hookers have everyone else beat on this score. And deep down I'm a sceptic about modernity. I suspect the old ways might outlast the cities, cars, and computers, and the oil and the bullshit.
What are you reading right now? I am reading Do Not Say We Have Nothing by Madeleine Thien. I picked it up out of obligation because I am doing the House of SpeakEasy thing with her soon. I didn't want to seem a jerk by not knowing who she was. I read the first page and I now can't stop reading it. It is a great book. I love it. I'm humbled to be doing an event with such a fantastic writer. (I just need to read Phil Klay and Elizabeth Alexander's work now and I will be completely crushed with self doubt about appearing on a stage with any of them.)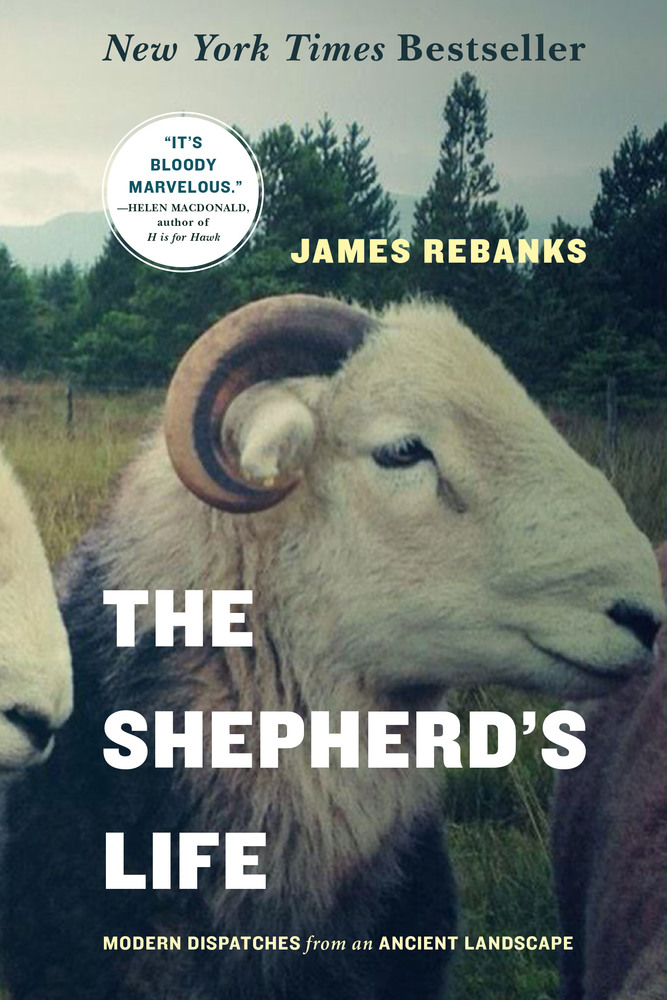 What was the last great film you saw? Spotlight.
Who in fiction do you most closely identify with? I love the boy called Jim in Empire of the Sun by J.G. Ballard, and in the Steven Spielberg movie. I watched that movie when I was young and I love the two sides of that kid. It is a wonderful book about a boy who discovers that he grew up in a daydream, but has to live and survive in a nightmare. It feels like parable about surviving and adapting, and what we lose when we get tough and mean to play the world. That movie meant a great deal to me when I was growing up. I was a little bit like Jim; I perhaps still am.
Given sufficient budget, what would you put on your wall? The pink apple blossom paintings by Van Gogh that he painted for his brother's child's nursery.
Who, in music, strikes deepest in the soul? My mother used to try and play Rhapsody on a Theme of Paganini by Rachmaninov at nights when I was young and lying in bed upstairs. I hear it and I am immediately eight years old again. My dad would be watching a John Wayne movie on the TV in the other room… I used to wonder how in God's name they ever ended up together. But what do any of us know about the love between two other people? Not much. I only realised how powerfully she loved him after he died last year. We are not very good at seeing other people's love.
Who in history would you most like to have a stinking-drunk night out with? Richard Flanagan (he is still very much alive, and I did it — but I'd like to do it again), the Australian Man Booker Prize-winning writer, likes a beer or two, and took me to a grimy nightclub where we had to shout over thrash metal tracks to hear each other, but I loved talking books with him, and I'd love to do it again. We didn't agree about a single book (he loves The Great Gatsby, which I think is lousy, and hates The Old Man and the Sea, which I love), but I remember things he said and I loved that night. He told me that there is no such thing as a 'good' or a 'bad' book, only books that we got something from, at a time when we needed to, or that we didn't. Later, I realised he was right. Half a book is in the reader's head. There is no objective standard for judging that. I don't have many bookish friends, so I really enjoy talking books when I get the chance.
What are your preferred writing materials? I write a lot on my iPhone. A lot of my writing is observational about the natural world around me, so I often reach for and write about what I am seeing, smelling or hearing. I guess I like directness and that is the quickest tool to hand. I've been reading about Van Gogh and his obsession with capturing scenes as quickly as he could, and capturing his immediate impression. I feel the same way about writing about work or my landscape.
What's the loveliest book that you own? Maybe 'lovely' isn't the right word, but I love my orange Left Book Club first edition of The Road to Wigan Pier by George Orwell. It has an opening paragraph that I return to often because it so beautifully describes a world that has completely disappeared. "The first sound in the mornings was the clumping of the mill-girl's clogs down the cobbled street. Earlier than that, I suppose, there were factory whistles which I was never awake to hear." None of us every heard that, and we now never will. My mother's family worked in cotton mills, so a little bit of their vanished world is in that paragraph.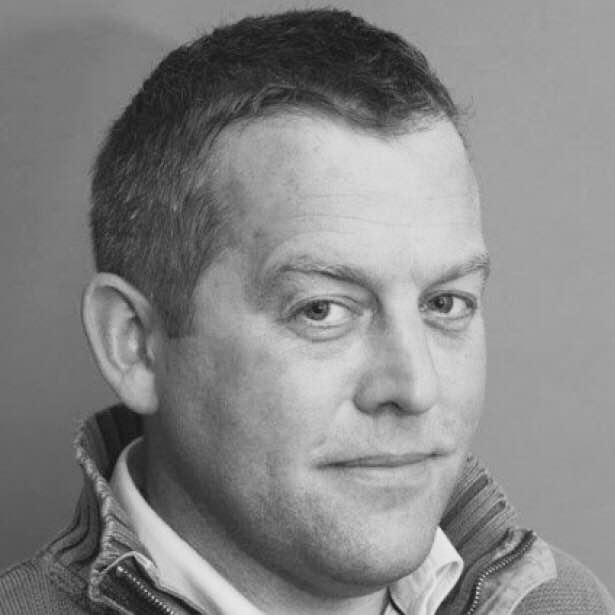 How do you celebrate the completion of a piece of work? I go back to my real work, and get on with it. Writing isn't my profession; being a shepherd is. So when I finish a book I feel a sense of huge relief that I can go back to real life for a while, and often I have a lot of farm work to do to cach up after the distraction of completing a book. I admire writers that can do their thing full time, but that isn't me. I need a life away from books. I don't really think of myself as a writer once I am finished writing a book. Most of my friends are shepherds and some are utterly indifferent/oblivious to my writing. My best friend hasn't even read my book. He doesn't feel the need to. We are friends because we both do a thing, shepherding, and love it deeply. He judges me on my merits as a shepherd, and I like that. So my flock of sheep defines my worth in his eyes, and thankfully I have one of the best flocks of sheep in our breed, so I have earned his respect.
You can see James Rebanks at House of SpeakEasy's Seriously Entertaining event, Razor's Edge, at Joe's Pub at The Public Theater on November 1, 2016. Buy tickets here.