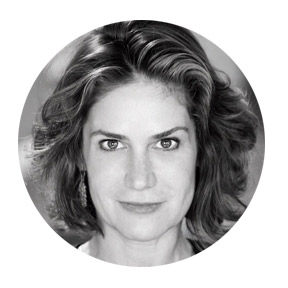 Jessica Strand is the host of New York Public Library's fantastic Books at Noon series and used to coordinate Strand Book Store's public events too, though the shared name is coincidental. She will be our guest on June 13 at the next Seriously Entertaining show, When Strangers Meet.
Name: Jessica Strand
Age: Between 12 and 90.
Where are you from? Born in Halifax, Nova Scotia, Canada.
What is your occupation? Cultural programmer/interviewer.
Title of most recent work: Upstairs at the Strand: Writers in Conversation at the Legendary Bookstore (Norton, 2016).
What are you working on now? A poetry anthology out next spring, beginning a slim memoir on my dad [the poet Mark Strand].
What's your earliest memory of literature? Asking my mother to take the Babar book (I can't remember which one, but there were spirits in it) out of my bedroom when she put me to bed. There wasn't much of a line between reality and fiction when I was four, and I was convinced that the ghoulish creatures would come out of the book and into my room.
What is your petite madeleine? I'm going to answer this one with food, simpler that way — spaghetti carbonara.
What do you most look forward to? A quiet day.
What are you reading right now? Barbarian Days by William Finnegan. [Jessica will be talking to William Finnegan at Books at Noon on Wednesday, June 1.]
What are your go-to quotes? Here's one — "The innocent are so few that two of them seldom meet — when they do, their victims lie strewn around." Elizabeth Bowen.
Given sufficient budget, what would you put on your wall? "New York Movie", Hopper; "Thérèse Dreaming", Balthus; a Winslow watercolor of the crashing sea.
Print or digital? Print.
What are your preferred writing materials? Pad and ballpoint pen.
What's the loveliest book (to hold, to look at, to leaf through) that you own? I would say the book changes monthly, yearly. I found a large picture book in a bookstore around the corner from me called Shocking! Schiaparelli. The 1930s fashion designer Elsa Schiaparelli was friends with many artists of the period — Dalí, Cocteau, Man Ray. Their drawings, photos, and parts of their paintings inspired many of her collections. The book is filled with photos of her extraordinary, crazy work — Wallis Simpson's lobster-print wedding gown, Cocteau's single-line drawings of lovers kissing transformed into embroidery on the back of a coat, etc, etc…
Thanks, Jessica!
You can see Jessica at the Seriously Entertaining show When Strangers Meet on June 13, 2016, at Joe's Pub at The Public Theater. Buy tickets here.