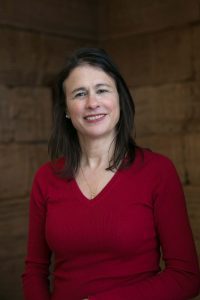 Nina Burleigh is an award-winning journalist, and the author of six books, including the New York Times bestseller The Fatal Gift of Beauty and, most recently, Golden Handcuffs: The Secret History of Trump's Women.
On November 12th, she will be speaking at House of SpeakEasy's Seriously Entertaining show, For Good Measure alongside James Geary, Maggie Paxson, and Monique Truong.
What is your earliest memory involving reading or writing?
My mom or dad reading poetry to me from the My Book House books. My dad scribbling in his little notebook (he was a poet) and quoting grave things at me like "Cast a cold eye on life, on death, horseman pass by!" That's Yeats, Under Ben Bulben.  I was writing poems in second grade.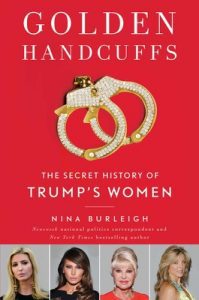 What is your favorite line from your current work?
Hard to pick a favorite. Opening to a random page I find this amusing.
"Marla eventually found inner peace in a Dixieland gumbo of every late 20th Century pop-spirituality, from Hollywood Kabbalah to color therapy and yoga, but during her years in hiding, she got spiritual succor from Emmanuel's Book, in which author Pat Rodegast, channeling an occult philosopher named Emmanuel opines on "the limitless power of love."
What is your favorite first line of a novel?
I am sorry but I really don't remember first lines in novels.  " It was the best of times it was the worst of times"?
Much better with lines of poetry.
Wordsworth:  "Bliss it was in that dawn to be alive. But to be young was very heaven."
Ginsburg: "I saw the best minds of my generation destroyed by madness, starving hysterical naked,"
What advice would you give to aspiring writers?
Try to maintain a three to one ratio of activity or being outdoors to sitting in the chair. But sitting in the chair (or standing at the standup desk) is truly the only way to do it. Write until it hurts, then walk away for a while.
What writer past or present do you wish you could eat dinner with?
Giuseppi Tomasi di Lampedusa – in Sicily. Author of Il Gattopardo. I never would have imagined having an interest in the last days of the Sicilian aristocracy but he writes it like a painter, you can feel the peeling gilded paint and the crumbly madonnas.
I imagine he would know the best food and wine to order too.
What writer do you wish you could share with the world?
I sometimes walk around quoting Robert Frost in my head. The rhythms and his pastoral imagery soothe me.
What are you reading right now?
Andrew Marantz, AntiSocial,
Meghan Daum, The Problem With Everything.
Hannah Arend, Eichmann in Jerusalem
Border by Kapka Kassabova
What fictional character do you most closely identify with?
That changes all the time: Nancy Drew, Pynchon's Oedipa Maas, Michael Dibdin's world-weary detective Aurelio Zen, James Salter's men and women in Light Years, Sally Rooney's girls.
If you could live inside a fictional world, which one would you choose?
I'm a sucker for fictional elegance set in the 1920s and '30s. Amor Towles Rules of Civility, Fitzgerald's Tender is the Night, Alan Furst's sexy Paris in Kingdom of Shadows.
Are there any quotes you use to inspire you?
"No man but a blockhead ever wrote except for money." – Samuel Johnson